Michael Buerk
Presenter of BBC current affairs programmes and former 'News At Ten' anchor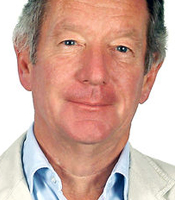 About
Award-winning journalist Michael Buerk began his career with the Bromsgrove Weekly Messenger in 1967 and joined the BBC in 1970.

His subsequent 20 years as a foreign correspondent took him to over 53 countries and included a four-year posting to South Africa at the height of apartheid, until he was asked to leave the country by the then government because of his uncompromising reporting.

However, Michael Buerk is probably most famous for his reporting of the Ethiopian famine in October 1984 which inspired the Band Aid charity record, and for which he was awarded the Golden Nymph award at the Monte Carlo festival for his reports on the famine from Korem in Ethiopia. Michael later said that the broadcast was one of "the most influential pieces of television ever broadcast prompting a surge of generosity across the world for Ethiopia that raised more than $130 million".

In 1991 he was airlifted out of Addis Ababa after a munitions dump exploded, killing his Kenyan sound recordist, John Mathai, and injuring Mohammed Amin, the cameraman who had accompanied him to Ethiopia in 1984.

By this time, he was turning his hand to presenting, and had become one of the main anchors for the BBC Nine O'Clock News. He also began presenting non-news programmes such as BBC1's 999, and on BBC Radio 4, the ethical debating programme, The Moral Maze, and interview series The Choice.

Michael Buerk has won numerous awards including Radio Broadcaster of the Year, the Royal Television Society's Journalist of the Year and the BAFTA News Award.

He announced his retirement from news presenting at the end of 2002, although he continues presenting other programmes and making one-off films. He lives in Guildford with his wife, Christine and has two grown up sons.
You may also be interested in...