Sir Martyn Lewis CBE
Author, journalist, presenter and businessman - former BBC and ITN newsreader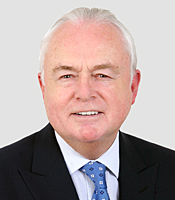 About
Over 32 years, Martyn Lewis built up a considerable reputation as one of Britain's best-known TV anchormen before deciding to take up a business career, as Chairman of "Teliris", the company he co-founded with British and American partners after leaving the BBC. Teliris has become the global leader in 'Interactive Telepresence' - a new 'Being There' technology system which is rapidly taking over from video-conferencing.

Martyn dovetails his entrepreneurial role as Chairman of Teliris with his many Corporate Conference presenting and Speaking engagements. It is the unique combination of Martyn's success and experience in both media and corporate worlds, his business acumen, his debating, interviewing and presentational skills, which have all won Martyn Lewis regular contracts presenting conferences around the globe for major national and international blue chip organisations.

In 2005, he became Chairman of the Beacon Fellowship Trust, a charity set up to encourage individual contributions to charitable and social causes and to celebrate and showcase best practice in giving. The former Chancellor, Gordon Brown, described the Beacon Awards as "the Nobel Prizes of the charity sector".

Whilst Martyn Lewis still finds time to make regular appearances on our television screens in discussion programmes such as ITV's 'Ultimate Questions', most company executives in Britain have grown up with his news anchoring. Over 20 years he presented first ITN's News At Ten, then the BBC's One O'Clock, Six O'Clock and Nine O'Clock News. He has also co-presented General Election and Budget programmes, and been presenter of the primetime BBC documentary series "Crimebeat", the daily news quiz "Today's The Day".

The six books he has authored include REFLECTIONS ON SUCCESS, for which he interviewed 67 prominent achievers from many walks of life - ranging from Tony O'Reilly and Shimon Peres to Michael Palin and Billy Connolly, from Tony Blair and F.W.de Klerk to Sir Anthony Hopkins, Judy Dench and Lynford Christie. Martyn summarises key parts of the book in a highly motivational speech which goes down well at corporate conferences.

Richard Lindley's recent book on the history of ITN describes Martyn Lewis as "simply one of the best news story film-makers ITN ever employed". He now brings that experience to the corporate sector as Chairman of NICE TV, which provides bespoke TV news programmes for major conferences.

Martyn Lewis CBE was knighted in the 2016 New Year Honours for voluntary and charitable work, especially for the hospice movement.
Books and DVDs
Below you'll find products by Sir Martyn Lewis CBE which may be available for purchase. Click the image to view on Amazon's website. Clients often like to purchase books and other merchandise as autographed give-aways at events where Sir Martyn Lewis CBE is appearing. For bulk purchases, please speak with the Booking Agent handling your event.
Tags for Sir Martyn Lewis CBE
You may also be interested in...