Baroness Martha Lane Fox CBE
Co-Founder of Lastminute.com and cross-bench peer in the House of Lords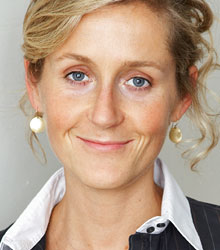 About
Baroness Martha Lane Fox co-founded Europe's largest travel and leisure website lastminute.com with Brent Hoberman in 1998, they took it public in 2000 and sold it in 2005. She and Brent Hoberman came to epitomise the new breed of internet entrepreneurs in London. She was appointed a cross-bench peer in the House of Lords in 2013.

After graduating from Oxford with a degree in ancient and modern history, Martha became an associate at Spectrum Strategy Consultants, where she met Brent Hoberman. Her clients included the BBC and Canal Plus - handy companies to understand, as lastminute aims to extend its service offering from the internet to other channels, such as interactive television.

Martha Lane-Fox then worked for a year as business development manager of Carlton Communication's initiatives in pay TV and digital channels. From there she joined Brent Hoberman at lastminute as Chief Operating Officer. Lastminute grew rapidly, expanding into France, Germany and Sweden as well as buying other travel companies regularly, and lastminute's success attracted considerable government attention.

Martha Lane-Fox has also been involved with the Government's Enterprise Initiative, talking to schools about entrepreneurship. At 30 years old she was feted as the richest self-made entrepreneur in business history. She has founded and floated a £700 million company with 1,400 employees, negotiated the dotcom boom and bust and has come out the other side with £30 million.

In November 2003 Martha Lane Fox stood down as Managing Director of lastminute.com to explore other opportunities but remained a non-executive director of the company. In May 2007 she was appointed a non-executive director of Marks and Spencer plc and also founded her own charitable foundation Antigone.org.uk. She is currently chair of Go On UK, a coalition of public and private sector partners that are helping millions more people and organisations online.

In March 2014 she was appointed Chancellor of the Open University. She also co- founded and chairs LuckyVoice, revolutionising the karaoke industry and chairs MakieLab. In 2007 Martha and also serves as a Patron of AbilityNet, Reprieve, Camfed and Just for Kids Law. Martha was awarded a CBE in 2013.
Speech Topics
Martha Lane Fox is able to devote a limited amount of her time for sitting on panel discussions, delivering keynote speeches and conference speeches as well as delivering motivational presentations.

She has a particular interest in entrepreneurship, tech and philanthropy.
Testimonials
GE's Leading & Learning conference was intended as an opportunity for our CEO female customers to get further involved in the diversity debate and learn from a broad range of speakers who are recognised leaders in their sector. We wanted to include Martha Lane Fox in the line-up because, for us, she is an extraordinary innovator who continues to share her knowledge and be a fantastic role model for new generations. We were not disappointed, as Martha's conversation with Lucy Kellaway was insightful, witty and really interesting learning about her current pet project doteveryone.org which looks to create a civic voice around the Internet. Thank you so much for all your support over the last few months as it has a joy to work with NMP Live, as we all know that conferences can be unwieldy beasts.
Tags for Baroness Martha Lane Fox CBE
You may also be interested in...