Mary Nightingale
ITN Evening News anchor and multi Newscaster of The Year Award winner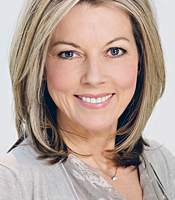 About
Mary Nightingale presents ITV1's Evening News at 6 and at 10 o'clock and has twice been named Newscaster of the Year by TRIC.

Prior to embarking on a career in broadcasting Mary was a Eurobond Dealer and Salesperson from 1986-1990, initially at the Bank of America International and then Tokai International, dealing with European Banks and Investment Funds.

Mary started her journalism career as a presenter and writer on World Business Satellite for TV Tokyo – a live daily business bulletin. She then joined BBC World Service Television's World Business Report as a presenter and writer, covering economic and corporate news.

From 1999-2001 Mary Nightingale anchored ITV's flagship holiday programme Wish You Were Here...? and also presented The Really Good Food Show, I-Spy and Most Wanted. In November 2000, she started presenting Ratrap for ITV. She joined ITV's Newscasting team in 2001 and won the Newscaster of the Year accolade the following year, and again in 2004. She played a key role in ITV's General Election night programme in 2010 as she did in 2005 and 2001.

Mary Nightingale has presented a number of factual prgrammes for ITV including a special programme on the topic of divorce for Tonight. She also interviewed Nick Clegg in the run-up to the 2010 Election.

In 2011 she presented a one hour special programme for ITV1 documenting the Duke & Dutchess of Cambridge's visit to Canada: 'Kate In Canada'. Mary is also the presenter of Britain's Best Dish (ITV1).

Mary Nightingale is an extremely experienced conference moderator, chair and host.
Testimonials
Mary's contribution to the success of what happened on-stage in Lisbon for KPMG cannot be understated. She demonstrated a keen grasp of a very complex subject, making all the links, interviews and discussions on-stage meaningful and relevant. Mary recognizes the value of humour and has the capacity to give confidence to the often nervous speakers and panellists, allowing them to perform at their best. She is great with the clients and is extremely flexible - no matter what we in production ask of her. All this combined to make this event much talked about and memorable, with engaged delegates and very happy clients.
Mary Nightingale was absolutely fabulous. Everyone at Encams was extremely impressed!
Thank you again for your tremendous contribution to the Openwork Conference. The initial feedback has been extremely positive (both from the client and within P&MM) and we would be delighted to recommend Mary to other clients for similar roles in future.
Mary Nightingale was fantastic, truly fantastic. She delivered the perfect balance between 'business slick' and 'people friendly'.
You may also be interested in...