Mark Austin
Emmy and BAFTA award-winning journalist (Sky News)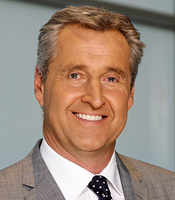 About
Mark Austin is the Washington correspondent for Sky News. He is a multi-award winning broadcast journalist who has spent 35 years reporting and presenting for ITV News and the BBC.

In his three decades at ITV News, Mark co-presented both News at Ten with Julie Etchingham and the Evening News ‪at 6.30pm, often on location from places as far afield as the Antarctic, Iraq, the Israel/Gaza border, Libya, Haiti, Nepal, Mogadishu, Afghanistan and Washington.

An Emmy and BAFTA award-winning journalist, Mark has conducted numerous agenda-setting interviews with the likes of Prince William, Nelson and Winnie Mandela, Gordon Brown, Shimon Peres, Tony Blair, Sir Jock Stirrup and Bob Geldof, among many others.

Previously he was Senior Correspondent for ITV News, covering major foreign and domestic stories. For fifteen years he was a foreign correspondent based in Africa and Asia and travelling all over the globe.

Mark has covered conflicts in several countries and in mid-1999 he played a key role in ITN's coverage of the war in Kosovo. Based on the Albanian border for much of the conflict, he reported on the refugee crisis caused by the war. On the day in June Nato troops finally entered Kosovo he was airlifted in with the Gurkhas, the first troops to enter the country, witnessing an early confrontation with Serb police.

He also covered the riots that brought down President Suharto in Indonesia. He was ITN's Africa Correspondent for four years, based in Johannesburg, witnessing the violence that preceded the historic transition to democracy in South Africa and Mandela's victory in the country's first real elections.

In 2011 and 2015, ITV News at Ten was named RTS Programme of the Year under Mark's watch and he won Presenter of the Year at the 2014 and 2015 Royal Television Society for Journalism awards. Mark's achievements include winning five BAFTA awards; an International Emmy in 2000 for his reporting of the devastating floods in Mozambique, a Golden Nymph in 1999 for covering the war in Kosovo, a Gold Medal at the 1996 Film & Television Festival of New York for his coverage of the Bosnian war and being named TRIC's Newscaster of the Year in 2010.

Mark has covered all the major sporting events for ITN, including four Olympics, four World Cups, the British Open, Rugby internationals, football news and several England cricket tours.
You may also be interested in...