Andrea Catherwood
Journalist, broadcaster and presenter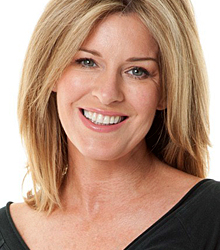 About
Andrea Catherwood is an award-winning television and radio presenter and former foreign correspondent. She's worked for some of the world's best known broadcasters primarily ITN, BBC, Bloomberg and NBC. She currently presents regularly on BBC Radio 4 across a broad range of programmes including The Media Show, Last Word, Saturday Live, You and Yours and Woman's Hour, as well as documentaries.

Andrea's broadcasting career began aged 16, when she joined the BBC in Belfast as a co-presenter of a youth current affairs programme for which she won BBC Northern Ireland's Young Presenter of the Year award. The following year she co-presented the youth current affairs programme "Up Front". Aged 18 Catherwood made a documentary for BBC Radio 4 about the 18 years of troubles in Northern Ireland.

Following an honours degree in Law from the University of Manchester, in 1990 Andrea joined Ulster Television where she spent three years as a news and features reporter. In 1993 she joined NBC Asia in Hong Kong as a news reporter, covering the handover of Hong Kong to China and the 1997 stock-market turmoil. She travelled extensively throughout Asia, and in Burma interviewed opposition leader Aung San Suu Kyi.

Andrea Catherwood joined ITN in April 1998 starting as Newscaster/Senior Reporter for ITV News, presenting the ITV Morning News and doing special reports for News at Ten. She then became Medical Correspondent for ITV News. Having joined Five News in 2000 as a main news presenter, she moved back to ITV in 2001.

She reported from New York in the aftermath of September 11th,anchored and reported from Baghdad during the U.S led invasion of Iraq, and witnessed the fall of Taliban in Afghanistan where she was injured by shrapnel in a Taliban suicide attack.Soon afterwards, she was a member of the first overseas media team admitted to Guantanamo Bay.

As an experienced newscaster and broadcast journalist Andrea Catherwood has reported from around the world. In November 2001 she was the first British journalist into Mazari Sharif after the Northern Alliance captured the city from Taliban forces. She produced a number of reports, which received wide coverage in the British press. Andrea was reporting from inside the prison at the beginning of the Taliban prisoners uprising when one exploded a concealed grenade that killed five people. She was injured in the knee by shrapnel. Andrea was also among the first British television journalists to visit Guantanamo Bay.

Andrea was a newscaster for ITV1 for nine years, anchoring programmes from both Washington and Iraq, and presented ITV1's flagship political programme The Sunday Edition. Until 2012, Andreawas ananchor for Bloomberg Television presenting the flagship business news, politics and current affairs show "The Pulse with Andrea Catherwood" each weekday from London. She played a leading role in covering the global downturn and the Eurozone crisis and regularly interviewed European Prime Ministers and Finance Ministers as well as economists and chief executives.

Born and raised in Northern Ireland, Andrea lives in London and speaks Spanish and French. She has an honours degree in Law from the University of Manchester.
Speech Topics
Andrea Catherwood regularly hosts high profile corporate events in the UK and around the world. She has moderated and chaired dozens of prestigious conferences, debates and award ceremonies.

Events include: EDF Hinkley Point C Conference, London; Tata Consultancy TCS Summit, Berlin; Schroders Live EU Referendum Special – London; BNY Investment Conference, Milan; Joint Investment Conference Brexit Debate, London; Dubai Chamber of Commerce and Economist summit, Dubai; ABI Biennial Conference; TATA Consultancy TCS Summit, Venice; Joint Investment Conference General Election Debate; Swift Business Forum; British Universities Conference; Lawyer European Awards; ABI Retirement Conference; HSBC Global Connections Conference, Shanghai; HSBC Global Connections Conference, New Delhi and many others.
Testimonials
I would like to thank you for helping to make our event on Monday evening a success. Your professionalism in the way you conducted the event and handled the questions to the panel was highly commendable. Your valuable contribution was very much appreciated.
Your professionalism and rapport with the speakers and audience really lifted the event!
It's been an absolute pleasure working with you. Thanks for moderating the summit and also doing an exceptional job with CIO and CEO panel sessions. The audience also enjoyed listening to some of the personal anecdotes shared by you. We will be working together in the future for sure.
The feedback we received has been very positive, and your participation clearly contributed to what was a highly successful day.
Pleasant, professional moderator. The best moderators are not intrusive – Andrea Catherwood exhibited that skill and genuinely seemed to be enjoying the topics/learnings as much as the attendees. Would highly recommend her involvement in future events.
Your delivery of the presentation was spot on; the personal touch at the top of the evening was perfect, and your input into the mechanics of the event on stage was invaluable.
You may also be interested in...