Katie Derham
Former ITV newscaster (Evening News & London Tonight) now radio broadcaster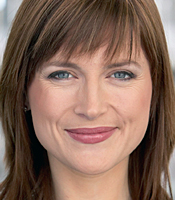 About
Katie Derham, until recently, presented the ITV Evening News and the news for London on ITV. She also headed the relaunch of London Tonight, the capital's news flagship programme. Katie was voted New TV Talent of the Year in March 1999 at the Television & Radio Industries Club (TRIC) Awards.

She joined ITV News in January 1998 and was Saturday newscaster on ITV from the beginning of 1999. She fronted her own media show, Wide Angle, on the digital channel ITV2 from December 1998 to December 1999. The half-hour programme gave an insider's view of the news of the week and of the world of news gathering.

Katie Derham came to ITV News after spending four years with the BBC, where she started her journalistic career as a researcher on Radio 4's Moneybox. In 1995 she won the Bradford and Bingley Best Personal Finance Broadcaster Award for her work as a presenter on Radio 5 Live's Moneycheck programme. She also edited Radio 4's Financial World Tonight programme.

She moved across to BBC television in 1996 as a consumer affairs correspondent and subsequently became a reporter for Film '96 and Film '97, interviewing many of the top names of American and UK cinema.
You may also be interested in...