Lars Tharp
Specialist consultant in European ceramics and Oriental works of art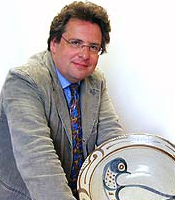 About
Author and lecturer Lars Tharp is a specialist consultant in European Ceramics and Oriental Works of Art. Since 1985 he has regularly contributed to the BBC Antiques Roadshow.

Lars was born in Copenhagen, educated in England. After studying The Old Stone Age at Cambridge University he joined Sotheby's, becoming a director and auctioneer with the firm. In 1993 he left to set up his own consultancy business advising museums, auction houses and private owners on the acquisition, care and disposal of ceramics.

He lectures worldwide - to Chambers of Commerce, commercial institutions, the National Trust, The National Art Collections Fund, New Scotland Yard, conferences and festivals - and is a frequent visitor to China, speaking in Beijing and Shanghai.

Other contributions include Call My Bluff, Antiques Inspectors, Going, Going Gone, The Great Antiques Hunt, Food & Drink, & occasional documentaries (notably The Titanic) as well as his one-man series The Real Collector's Guide shown throughout the world.

He is chairman/quizmaster of BBC Radio 4's Hidden Treasures and has recently presented a six part series for Radio 4, 'Out of the Fire' which was devoted to his special subject, Ceramics.

In between his busy schedule, Lars gives entertaining and educational illustrated talks covering fine arts and antiques. He also organises and presents art quizzes for all occasions from corporate team-building challenges to informal society dinners and charities. Formats are tailor made to the client's requirements.
You may also be interested in...