Kinvara Balfour
Fashion moderator and host of Fashion in Conversation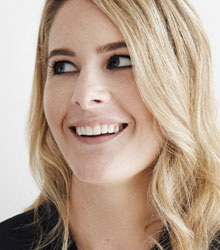 About
Kinvara Balfour is an interpreter of global cultural trends with a focus on fashion, tech and popular culture. She is considered a key influencer and acts as a 'consultant of cool' for emerging and established brands. She has worked for superbrands including Condé Nast, DailyCandy and Apple, and has directed the launch of several tech start-ups in UK and USA.

To-date, Kinvara has spoken at events and conferences around the world for organisations including Metail, MARKA, Richemont, Pantene, Max Factor, Jimmy Choo, Wella, Coutts, UBS, Value Retail, Citigroup, Beymen, Canon, IKEA and the British Fashion Council.

In 2014, she was one of a few women invited to speak at President Obama's Global Entrepreneurship Summit. Kinvara currently hosts 'Fashion in Conversation' at the Apple Store, a series of interviews in UK and USA with creative icons (Tom Ford, Anna Wintour, Manolo Blahnik, Zac Posen, Philip Treacy, Charlotte Tilbury, to name a few) which are available to an audience of over 800 million on iTunes.

When Kinvara Balfour was 17 years old she won the Lloyd's Fashion Challenge, a national competition in fashion design, as judged by Vivienne Westwood. Kinvara went on to assist Westwood in her design studio. Kinvara then joined British couturier Tomasz Starzewski, whose clients included Margaret Thatcher and Diana, Princess of Wales. Roles at Condé Nast and the Saturday Telegraph followed.

In 2004, Kinvara was appointed London Editor for US web phenomenon DailyCandy.com by owner, entrepreneur and MTV Co-Founder, Bob Pitman. She launched the brand internationally to mass acclaim. In 2008, DailyCandy.com was acquired by US media giant Comcast for a reported $125 million.

In 2011, she joined the launch team of luxury deals start-up Keynoir.com for founders including lastminute.com founder, Brent Hoberman. In 2012, Kinvara launched a digital blog platform for Time Out under new ownership by Oakley Capital. In 2014, Kinvara co-launched new tech start-up Style-Card.co.uk. In the same year, Kinvara was enlisted to help launch the AOL Build Speaker Series in New York.

Kinvara has lectured at London's Victoria & Albert Museum and Condé Nast College of Fashion. After university, she trained as an actress at Central School of Speech & Drama and has written several plays.
Speech Topics
Kinvara Balfour is the cool, fashionista with a real passion for tech. She is as comfortable delivering key note speeches about global branding, digital platforms and start ups as she is address audiences with case studies on Burberry. Kinvara can work with businesses of all sizes to highlight where more can be done to get a brand out into the global market.

Kinvara is also a hugely experienced interviewer who can help create a more casual address in a laid back, informal style chat with another business speaker. She has interviewed people from a wide array of backgrounds and her ability to stay one step ahead of the zeitgeist means she can talk about topics including tech, fashion and culture.


You may also be interested in...