Jo Elvin
Award winning Editor of Glamour Magazine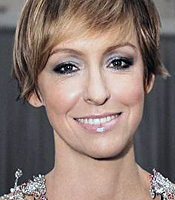 About
When Jo Elvin headed from Australia to London in 1992, she had no money or experience, but she has huge aspirations and incredible motivation. Now the award-winning editor of GLAMOUR magazine, Jo is an inspirational keynote speaker, who demonstrates the characteristics and tools required for success.

As a junior writer on Australian teen mag, Dolly, Jo showed promise and journalistic skill. Working as a publicist for iconic soap Neighbours, gave her access to the national press, at which point she realised that her future lay in publishing, and so her first job in London, as deputy editor on TV HITS magazine, felt like a natural fit.

Launching the now iconic Sugar – the first 'glossy' for teenagers – Jo created a market leader, and ultimately changed the face of teenage magazines in the UK.

In 1997 she launched B, achieving sales of 220,000 a month, and leading to her appointment as editor of New Woman, where she also increased sales significantly.

Conde Nast's Glamour magazine was a trailblazer, and under the editorship of Jo, it was launched as the first ever 'handbag size' glossy magazine, and lead to copies of its revolutionary format becoming available in several other markets, including the broadsheet press. After the initial launch, an extra 50,000 were printed to keep up with demand. A decade later, Glamour is still the market leader.

Jo's career has garnered her handfuls of awards, including the coveted BSME award for Editor's Editor of the Year. Jo appeared as a judge in the hugely popular Great British Hairdresser series for E4, and was also a judge in the High Street Fashion Awards for Lorraine on ITV1. She has been an expert panelist on The Apprentice: You're Fired for BBC2, and has made guest appearances on numerous TV shows including Strictly Come Dancing - It Takes Two, The Alan Titchmarsh Show, The World's Greatest Pop Star, Mary Queen of Charity Shops, and Gok Wan's Miss Naked Beauty, amongst others. Jo's writing has also been published in many newspapers including The Independent, Evening Standard and The Observer.

Jo Elvin's journey, from an ambitious young world-traveller to becoming one of the most successful magazine editors in the UK, is an inspirational story, which she relates with a natural charisma.
Testimonials
Jo Elvin is an engaging, positive, and inspiring speaker. She offered a unique perspective coming from an industry outside of financial services which the audience found particularly interesting. She was relatable and optimistic when addressing career trajectory and success. She brought a great energy to the event and appreciate the time she committed to spend with Blackstone.
You may also be interested in...