Laurence Llewelyn-Bowen
One of the UK's most established interior designers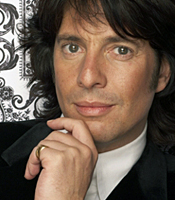 About
Laurence Llewelyn-Bowen has established himself as one of the most well known designers on British television.

After graduating with a Fine Art degree from the Camberwell School of Arts and Crafts in 1986, Laurence joined a company specialising in industrial rubber flooring. Soon, Laurence was commissioned to undertake work at Buckingham Palace!

His design skills were honed further when in 1989 he worked on the prestigious Paris Virgin Megastore project. Not content with this seemingly rapid rise to prominence, Laurence set up his own design consultancy in 1989, the year he married Jackie. Commissions have included The Opera Terrace, Covent Garden and the Sous Sol at the Oriel, Sloane Square.

Laurence Llewelyn-Bowen's BBC debut was on the very first episode of Changing Rooms, broadcast during September 1996 on BBC TWO. His vibrant personality immediately struck a chord with viewers, which contributed to the series attracting a loyal audience.

This success persuaded the BBC to reschedule Changing Rooms to BBC ONE where it's currently in its eleventh series, with Laurence continuing to impress us with his charm, wit and memorable designs.

In 2000, Laurence joined forces with garden designer, Diarmuid Gavin, to launch Homefront Inside Out. This innovative BBC TWO show enables Laurence to share a design brief with Diarmuid to create a complementary makeover for each home and garden. The hour-long format of the show has allowed Laurence to provide the audience with a deeper insight into the design process.

In January 2002, Laurence presented Taste, a three-part special for BBC TWO, about the history of interior design.

It's no surprise that Laurence's flamboyant personality has resulted in numerous invites to appear on popular game shows and chat shows. Lloyd Grossman explored Laurence's old house, he's been Gotcha!'d by Noel Edmonds and he's appeared on Blue Peter, Children In Need and The Kumars at No 42.

If all that wasn't enough, Laurence has written numerous books, is a regular contributor to leading interior design magazines and has his own newspaper column.
You may also be interested in...