Anna Ryder-Richardson
Interior designer on BBC1's 'Changing Rooms' and former fitness instructor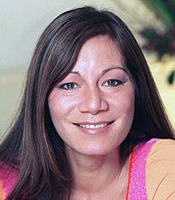 About
Former model and fitness instructor Anna Ryder Richardson is probably best known for her work as an interior designer on Changing Rooms. Since 1998 Anna has helped transform the homes of enthusiastic neighbours the length and breadth of the country.

Anna originally specialised in designing children's rooms, but soon expanded her repertoire to include clubs, hotels and private houses. Her flamboyant personality has made her a great hit on TV and she is known for her love of striking, modern designs.

Since working in television, Anna has presented numerous interior design shows including BBC's House Invaders and Change That. She also co-presented the popular property series All the Right Moves with Quentin Willson and was a captain on Channel 5's karoake show Night Fever.

Apart from her work on television, Anna also writes a weekly design feature for The Sun and has recently contributed to a book on children's rooms.
Tags for Anna Ryder-Richardson
You may also be interested in...