Alan Titchmarsh MBE
Gardening expert and presenter of BBC2's Gardeners' World and Ground Force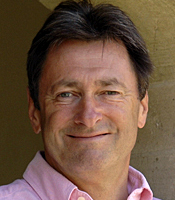 About
Alan Titchmarsh was born and brought up on the edge of Ilkley Moor in Yorkshire, and started growing things at the age of ten in his parents' back garden. He left school at fifteen and became an apprentice gardener in the local nursery, following this with full-time training at horticultural college and the Royal Botanic Gardens, Kew.

After a spell as Supervisor of Staff Training at Kew he became a horticultural journalist, first as an assistant gardening books editor, then as Deputy Editor of Amateur Gardening magazine, before becoming a freelance broadcaster and writer.

He has twice been named 'Gardening Writer of the Year', and in 1997, 1998, 1999 and 2000 was voted 'Television Personality of the Year' by the Garden Writers' Guild. He writes regularly in BBC Gardeners' World Magazine, as well as being gardening correspondent of The Daily Express and Sunday Express. He won a Gold Medal at the Chelsea Flower Show in 1985 for a country kitchen garden.

Alan has written more than thirty gardening books, including The Gardeners' World Complete Guide to Gardening and Alan Titchmarsh's Favourite Gardens and four novels - Mr MacGregor (1998), The Last Lighthouse Keeper (1999), Animal Instincts (2000) and Only Dad, (2001).

He has appeared on radio and television both as a gardening expert, and as an interviewer and presenter, fronting such programmes as Points of View, Pebble Mill, Songs of Praise, Titchmarsh's Travels, Sweet Inspiration, and the Chelsea Flower Show. He presented the 100th edition of The Word for Channel 4, and on radio he has frequently presented the Radio2 Arts Programme.

Since 1996 Alan has been the main presenter of BBC2's Gardeners' World, and the hugely popular Ground Force, which has been second only to Eastenders in the BBC1 ratings. His latest series, How To Be A Gardener, began transmission on BBC2 in February 2002.

Alan Titchmarsh is a Freeman of the City of London, he has received the award of Honorary Doctor of Science of the University of Bradford and Honorary Doctor of the University of Essex, and in 1997 he was named 'Yorkshire Man of the Year'. He was appointed MBE in the 2000 New Year Honours List. He lives at Barleywood in Hampshire with his wife and family, where he gardens on a north-facing hillside of chalk, clay, and flint, just so nobody can say, 'it's all right for you'.
Books and DVDs
Clients often ask about purchasing books for giveaways and delegate packs. Below you'll find a selection of products by Alan Titchmarsh MBE. Click the images to view on Amazon's website. For bulk orders, please speak with your Booking Agent.
Tags for Alan Titchmarsh MBE
You may also be interested in...