Monty Don
Writer, television presenter and the UK's favourite gardener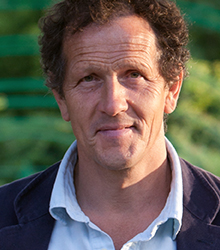 Copyright © Marsha Arnold
About
Monty Don was brought up in Hampshire where he gardened from a young age, and educated at a variety of schools and at Magdalene College, Cambridge.

From the early 1980's Monty and his wife Sarah set up and ran a jewellery business which enjoyed a great flurry of success in the mid eighties but folded in 1990 just as Monty's television and writing career was taking off. Despite this being such a big blow, Monty remained positive about the failure and took a lot away from the experience saying "I learned much more from the failure of our business than I did from its success".

Monty first appeared on television in 1989 on "This Morning" and continued as their regular gardening expert for 8 years. Monty Don has now presented gardening and travel programmes for over twenty years.

He became the lead presenter for the BBC flagship programme Gardeners' World between 2003 and 2008 and then again from 2011 when Monty began hosting Gardeners' World from his home Longmeadow in Herefordshire. Monty is also the main presenter for the Chelsea Flower Show coverage for BBC2.

Monty Don's other TV credits include, Tomorrow's World, Fork to Fork, Real Gardens, Lost Gardens, Around The World In 80 Gardens, Growing Out Of Trouble, My Dream Farm and Mastercrafts. Monty presented a series on Italian Gardens on BBC2 which was followed by another on French Gardens. In 2014 Monty presented a series called Real Craft for More4 and Big Dreams Small Spaces for the BBC and his latest series for BBC2 The Secret History of the British Garden is due to be transmitted in 2015.

He has also finished recording the second series of Shared Planet for Radio 4. In this programme Monty explores the complex interface between a growing human population and wildlife.

Monty is a prolific journalist and was the Observer's gardening editor from 1994 until 2006 and now writes a regular column for the Daily Mail and Gardeners' World Magazine. He has written over 20 books including the best selling Fork to Fork, The Sensuous Garden, The Jewel Garden (with Sarah Don), The Complete Gardener and most recently, The Road to Le Tholonet.

Monty is a committed organic gardener and was for many years the President of the Soil Association. He has worked with schools and groups of drug addicts to build respect and reward from working with the natural world. Monty has a strong belief in the importance of communities working together through an understanding and love of the land.

Monty Don has never had a set career plan but he does have a remarkable story.
Testimonials
Amazing! His talk was inspiring and I have had nothing but rave reviews.
Monty Don was fantastic at the show and a very genuine person; a great choice for us. He did a great job and was professional throughout. Many people have commented via social media about his visit and he obviously had considerable impact on their perception of the event. Monty is a great character and lived up to all expectations.
Monty was a gentleman and a true professional. The talk he gave was outstanding and everybody enjoyed it. It was a pleasure to have him here and I will be asking him back after the showing of his next TV series.
Books and DVDs
Clients often ask about purchasing books for giveaways and delegate packs. Below you'll find a selection of products by Monty Don. Click the images to view on Amazon's website. For bulk orders, please speak with your Booking Agent.
You may also be interested in...