Sarah Raven
Gardener, writer and broadcaster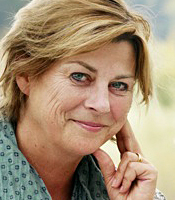 Copyright © Marsha Arnold
About
Sarah Raven is an experienced broadcaster, journalist, public speaker and teacher with a great passion for all things horticultural. She speaks and writes on a variety of subjects including gardening, flower arranging and cooking. Sarah also delivers an in depth and personal account of the life, history and the gardens at Sissinghurst.

Sarah writes regularly for various publications including The Daily Telegraph, Country Living, Gardens Illustrated, Gardeners' World Magazine, and The English Garden magazine and now Sainsbury's Magazine. Sarah Raven's gardening and cookery books have won her a number of awards including Best Specialist Gardening book for The Cutting Garden and Cookery Book of the Year for Sarah Raven's Garden Cookbook.

Her recent book, Vita Sackville West's Sissinghurst: The Creation of a Garden brings Vita's garden writing up to date and describes the vision and craft that has made Sissinghurst, one of the most inspirational gardens in the world, a place of vitality and beauty.

Sarah Raven is a regular to our television screens, appearing for the BBC on a number of programmes including Gardeners' World, the 2014 series Great British Garden Revival and numerous guest appearances for the Chelsea Flower Show. She also presented a well-received TV series in 2012 for BBC2 called Bees, Butterflies and Blooms on the crisis of insects and Sarah's attempts to flower up the nation to hugely increase insect food and habitat supply.

Sarah Raven runs cooking, flower arranging, growing and gardening courses at Perch Hill, her farm in East Sussex, and also around the country. She has a home-shopping business based on the plants trialed and grown at Perch Hill. Sarah is currently working on a cookery book which, combining her medical training with her love of growing and cooking food, explores healthy eating.
Speech Topics
Sarah Raven writes and speaks on a variety of topics including gardening, flower arranging and cooking. She is also exceptionally knowledgeable on horticulture, bulbs, flowers, bees, cooking and health and nutrition.
Books and DVDs
Below you'll find products by Sarah Raven which may be available for purchase. Click the image to view on Amazon's website. Clients often like to purchase books and other merchandise as autographed give-aways at events where Sarah Raven is appearing. For bulk purchases, please speak with the Booking Agent handling your event.
You may also be interested in...