Carol Smillie
Versatile and popular Scottish television presenter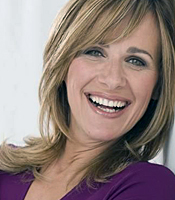 About
Carol Smillie is one of the UK's most sought-after presenters for lifestyle television programmes, award ceremonies, corporate events, advertisements and charity work. Those who know her primarily from Changing Rooms may be surprised by the range of her work on and also off the television.

She has won a National TV Award, an INDIE award and was nominated for a BAFTA. She has worked with Princes, Prime Ministers and movie stars, and is gaining recognition overseas in particular through BBC America.

Carol Smillie began her career in show business as the much publicised hostess on ITV's Wheel of Fortune, a role however, which denied her a chance to speak. She found her voice, and her feet, shortly after as one of the main reporters on BBC2's The Travel Show. After two years, she was snapped up as a regular on BBC1's Holiday, often fronting the show.

Carol was the face of the BBC's Summer Holiday and Holiday Swaps and for three years in succession, fronted The National Lottery. However, the show she will always be known for is, of course, BBC television's Changing Rooms, the flagship DIY programme which changed the face of British television as we know it today. The programme earned Carol invitations to Buckingham Palace and Downing Street and the big red book on This is Your Life.

She has fronted 5 successful series of Dream Holiday Homes on Five. Carol is a regular guest on game shows and other popular programmes, she appeared on a celebrity version of ITV's Who Wants to Be a Millionaire and BBC's Strictly Ice Dancing.

ITV chose Carol Smillie as the main presenter to launch two new series for them, one was called The Peoples Court which helped members of the public sort out problems and the other was A Brush With Fame which had members of the public from all over the UK competing to find out who was Britain's best amateur portrait painter.

Carol has presented Hospital Live for Living TV and she also made an appearance from Norwich Cathedral on ITV on Christmas Eve and on Christmas day appeared on BBC 1 on Before They Were Famous.

Carol Smillie was one of the main celebrities on the recent BBC1 series, Strictly Come Dancing and she has also fronted a special report about DIY on ITV's Tonight With Trevor McDonald programme.
Performance
Carol Smillie is highly in demand on the corporate circuit as a host for company conferences and award ceremonies and was chosen to host the Duke of Edinburgh's 80th birthday celebrations at the Royal Albert Hall.
You may also be interested in...