Kara Tointon
Actress (EastEnders, Mr Selfridge, The Halcyon)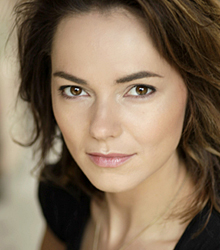 Copyright © Vanessa Valentine
About
Actress Kara Tointon came into the media spotlight for playing Dawn Swann in EastEnders (2005-09) and then subsequently starred in celebrity BBC reality show Strictly Come Dancing (2010), which she went on to win. In 2015 she joined the cast of hit ITV period drama Mr Selfridge, as the grand department store owner's daughter, Rosalie. Then in December 2015 Kara played the lead role of Maria in ITV's live broadcast of The Sound of Music. In 2017 she starred in ITV's new prime-time period drama The Halcyon, playing club signer Betsey Day.

Kara began her acting career at the tender age of seven. She attended speech and drama lessons at school and also took part in LAMDA examinations, entering local musical festivals performing poetry recitals. Her first 'proper' acting role came when she played the part of Birgita in The Sound of Music at the Cliffs Pavillion, Southend-on-Sea. Shortly after that her first paid role was as one of the children in the pantomime Snow White and the Seven Dwarfs. Her first appearance on television was as an extra in EastEnders.

Kara Tointon was raised in Leigh-on-Sea, Essex and diagnosed with dyslexia aged seven, the same year she started acting lessons. In 2010, she presented a documentary for BBC Three called "Kara Tointon: Don't Call Me Stupid". The programme examined the impact dyslexia can have on people's lives and the difference different learning styles can have on people with dyslexia. During the programme, she visited a School in Somerset, which specialises in the education of pupils with dyslexia, and talked with the pupils about their experiences. Kara is frequently sought-after to speak at school events and motivate young adults to achieve their ambitions in life and not let adverse conditions such as dyslexia stand in the way of achieving those dreams.

Not only is Kara a wonderful actress but she is also highly trained in dance, specialising in Aerobics, Ballet, Bass-Baritone, Cabaret Singing, Choreography, Contemporary, Jazz and Tap. In 2010 she starred in BBC1's hit prime time show Strictly Come Dancing where she made it through to the finals and went on to win the competition with professional dancer Artem Chigvintsev.

In 2011, she played Eliza Doolittle in the West End production of Pygmalion at the Garrick Theatre, alongside co-stars Rupert Everett and Dame Diana Rigg. Then, in 2012 Kara was cast as Evelyn in Alan Ayckbourn's west end revival of Absent Friends, a play he wrote and set in 1974.

In her spare time Kara enjoys painting, swimming and skiing. She is a keen shopper and likes to spend hours at a time rooting around London for rare, one-off outfits. Fading into the background isn't her style.
Speech Topics
Kara Tointon is as versatile and experienced for live events as she is an actress: whether it's a straight forward personal appearance, hosting a corporate awards dinner or delivering a motivational speech.

One of the nicest and friendliest personalities in the entertainment industry, Kara is highly sought-after for personal appearances and ribbon cutting ceremonies where a little glamour, glitz and showbiz pizazz will raise the event profile and generate some valuable PR column inches for your company or association.

For high profile award dinners Kara Tointon is the ideal host to welcome your guests, make them feel at ease and guide them through the evening, ensuring everything stays on track and a memorable time is had by all.

As an actress that has struggled with dyslexia from age 7 and gone on to become a successful household name in the UK, there's no-one more qualified to deliver a motivational and empowering speech than Kara Tointon. Speaking candidly about her ongoing struggles to overcome adversity and achieve her many ambitions in life, Kara is a passionate, entertaining and inspiring speaker for any discerning audience.
Testimonials
Just wanted to thank you for coming to the summer exhibition launch yesterday. Please do convey our thanks to Kara Tointon for her attendance and support – it was lovely to meet her, and she seemed to be on great form. We were really delighted that she could be there.
You may also be interested in...