Jonathan Maitland
ITV reporter and investigative television journalist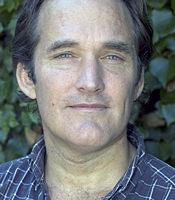 About
As a broadcaster, writer and author Jonathan Maitland has presented various TV shows including the BBC's Watchdog, House Of Horrors, The Man In The Van and Vote For Me, all for ITV.

He has interviewed Tony Blair and Bob Geldof, was the first person on TV to have his genes tested and was the only broadcaster to interview Doctor Atkins, of diet fame. (He also road tested the diet and lost a stone in two weeks but then regained it with interest). Jonathan currently presents the ITV1 flagship current affairs show Tonight (formerly Tonight with Trevor McDonald) and is the only original member of the presenting team since the very first show in 1999.

Before joining ITV Jonathan worked for the BBC for 15 years, first as a reporter on Radio Bristol (1986-88), then the Radio 4 Today programme (1988-94). However, he made his name in the 1990s with establishment baiting reports on Watchdog with Anne Robinson, whom he would fondly refer to on screen as "Annie Baby". In one short film he poked fun at golf club dress codes - this involved him donning deer antlers and a leather mini skirt.

Jonathan Maitland was educated at Epsom College, and holds a law degree from King's College London. He has written five books including 'How to Make your Million from the Internet (and what to if you don't)', which detailed his attempt to make a million from the dot com boom by mortgaging his house for £50,000 - he failed. His latest book is 'How to Survive your Mother' which describes his unconventional childhood in suburban Surrey. His mother turned the family home into a hotel for homosexuals when he was 13, simultaneously announcing that she had six months to live. The film rights have been bought by ITV.

Jonathan Maitland has dabbled in comedy, having written one-off sketches with, or for, Chris Morris, Rory Bremner and Alastair McGowan. He also performed with a wedding band, Surf N Turf. In 2002, the group performed Maitland's brother's composition I Give In in the A Song For Europe contest, hoping to represent the UK in the Eurovision Song Contest. They lost to the eventual winner Jessica Garlick.

Maitland, along with Nicky Campbell, Shelagh Fogerty, Robert Harley and Fiona Foster were part of the losing team on celebrity Eggheads transmitted 15th December 2008. He likes cricket, golf, curry, Scrabble and Karaoke and lives in Chiswick, west London.
You may also be interested in...