Roger Cook
BAFTA award-winning investigative journalist and broadcaster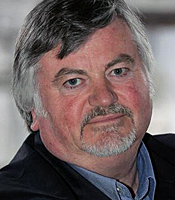 About
Born in New Zealand, and raised in Australia, Roger Cook began his media career with the Australian Broadcasting Corporation as a reporter and news reader on both radio and television. In 1968, he moved to Britain where he joined BBC Radio 4's The World At One programme, and subsequently worked on several other BBC radio and television programmes, including PM, Nationwide, and Newsnight.

In 1971 Roger created and presented the Radio 4 programme Checkpoint, which specialised in investigating and exposing criminals, con-men, injustice and official incompetence - and then confronting the wrong-doers on film. He is credited with creating a whole new genre of investigative reporting.

Roger then joined Central Television in 1985 and the ground-breaking Cook Report was born. For 16 series Roger travelled many thousands of miles a year in international pursuit of crooks and con-men and those in authority who dodge their responsibilities. Usually well ahead of the competition, the programme has exposed child pornography, Northern Ireland protection rackets, baby trading in Brazil, loan sharks, the ivory trade, illegal immigration, war criminals in Bosnia and the Russian black market in weapons-grade plutonium. In 1998, the programme passed its 120th edition - a number of which have been followed by successful police prosecutions or major changed in the law.

In 1998, The Cook Report came to an end and was replaced by fewer, but longer, Cook Report Specials. Roger is currently working on a number of projects, including further Cook Report Specials.

Roger's many broadcasting awards include; Royal Television Society (Midlands), Best On - screen Personality, 1996; 1997 Houston Worldfest Silver award for Best Interview, 1997; Charleston Worldfest Gold Award for Best Investigative Programme, 1997; Genesis Awards, Brigitte Bardot International Award for Best Campaigning Wildlife Programme, 1997; Royal Television Society, Runner-up, Interview of the Year, 1997; Television Radio Industries Special Award for Outstanding Contribution to Broadcasting, 1998; British Academy (BAFTA) Special Award 'For 25 years of Outstanding Investigative Reporting', 1998.

Roger Cook co-wrote What's Wrong With Your Rights? Published by Methuen in 1998, highlighting cases which exposed the erosion of absence of rights we all take for granted. His memoir, Dangerous Ground, was published by Harper/Collins in 1999.
You may also be interested in...