Rageh Omaar
International Affairs Editor for ITV News in UK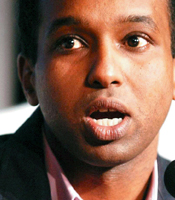 About
Rageh Omaar rose to prominence as the BBC's man in Baghdad. His reports from the beleaguered Iraq capital became a regular feature on news bulletins in the UK and around the world. Rageh's recent work for the BBC includes a film for PANORAMA, KNIVES - A TEENAGE WAR ZONE and AN ISLAMIC JOURNEY THROUGH EUROPE. He hosted the EMMA Awards and was recently heard narrating A MUSLIM IN THE FAMILY for BBC1. Rageh gave the Royal Television Society's HUW WHELDEN LECTURE which was broadcast on BBC 2, and during the Edinburgh Television festival Rageh spoke at a seminar entitled SADDAM: MY PART IN HIS DOWNFALL.

Rageh's journalistic career in began in 1990 as a trainee at THE VOICE newspaper in Brixton before moving to CITY LIMITS MAGAZINE. Since then he has freelanced as a foreign correspondent in Ethiopia, much of his work being broadcast by BBC WORLD SERVICE. He produced for FOCUS ON AFRICA and for the WORLD SERVICE. Rageh spent three months studying Arabic at the University of Jordan, and went on to be appointed Amman correspondent, before becoming the BBC's Developing World correspondent from 1998 covering stories ranging from drought in Ethiopia to devastating floods in Mozambique.

His first book REVOLUTION DAY drew from the diaries he kept while in Iraq. His second will be about Somalia, where he was born, bringing together stories of exile, war, tradition and his own family. Rageh Omaar was educated at Cheltenham Boys College and later Oxford University where he gained a BA Honours in Modern History.

Rageh became a special correspondent and presenter for ITV News in 2013, reporting on a broad range of news stories, as well as producing special in-depth reports from all around the UK and further afield. Rageh also presents ITV's monthly current affairs programme, On Assignment.
Books and DVDs
Below you'll find products by Rageh Omaar which may be available for purchase. Click the image to view on Amazon's website. Clients often like to purchase books and other merchandise as autographed give-aways at events where Rageh Omaar is appearing. For bulk purchases, please speak with the Booking Agent handling your event.
You may also be interested in...