Lesley Abdela MBE
Former Political Journalist of The Year (2009) and women's human rights expert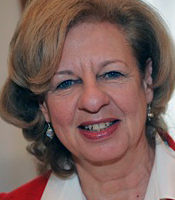 About
Lesley Abdela MBE, winner of the '2009 UK Woman Political Journalist of the Year', has worked in over 40 countries and had experience as a civilian working in post-conflict Kosovo, Iraq, Afghanistan, Sierra Leone, Aceh Indonesia and Nepal.

In addition to being an award-winning journalist, she is an Expert Consultant advising governments, international organisations and civil society on Democracy, Women's Human Rights and Gender. Lesley started her career as an advertising Executive, then researcher in the House of Commons and the House of Lords and stood for Parliament. Her award-winning work spans over 20 years in the fields of gender, human rights, human resources and democratic empowerment. Lesley Abdela is also a journalist, broadcaster and speaker on the international circuit.

As an experienced and accomplished Public Speaker and TV and Radio Presenter Lesley Abdela has been a guest on; BBC Radio 5 Live, BBC Radio 4 Woman's Hour; A Good Read, Great Lives, BBC World Service, BBC TV Question Time, and 'Have I Got News for You'. Her articles have been in many publications including The Guardian, The Times, The Sunday and Financial Times, The Independent, The Observer, The Economist and The Washington Post. She wrote and presented the BBC Television documentary on women in UK Politics called Women with X Appeal. She was also a consultant for the BBC series about women at work.

Her published work includes; Communication Skills Manual for Women in Politics; Breaking through the Glass Ceilings, Do it! – Walk the Talk; Women with X Appeal, What Women Want; A strange Old Mother; No Press Pass for Women's Magazines and Stay Healthy While You Travel'.

Lesley Abdela is an international women's human rights campaigner and gender/post-conflict specialist, and an expert on the advance of women in Politics and Public Life. Her award winning work in the fields of gender, human rights, human resources and democratic empowerment provide a sound base for her public speaking.
Tags for Lesley Abdela MBE
You may also be interested in...