John O'Farrell
British novelist, columnist and comedy script writer / satirist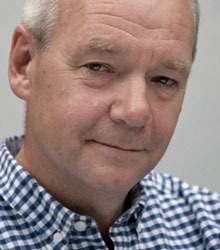 About
John O'Farrell currently writes a weekly column in The Guardian newspaper. The column usually takes a humourous or satirical look at a major event in British or World politics of the previous week. His views are somewhat left-of-centre and though a member of the Labour Party, O'Farrell has been a consistent critic of his party's policy in Iraq. Previously he wrote a similar column in The Independent.

John O'Farrell is the author of five books - Things Can Only Get Better: Eighteen Miserable Years in the Life of a Labour Supporter, 1979-1997 (published 1998), The Best a Man Can Get (2000), Global Village Idiot (2001), This Is Your Life (2002) and I Blame the Scapegoats (2003). The third and last of these are compendiums of his pieces for the Independent and Guardian. The first is a factual account of O'Farrell's (torrid) time supporting Labour whilst they were in opposition for eighteen years and became a number one bestseller. The Best a Man Can Get and This Is Your Life are comic novels that have been compared to the work of Nick Hornby. His novels have been translated into around twenty languages.

John O'Farrell previously wrote for comedy television and radio shows with co-writer Mark Burton. Early roles including sketches for Spitting Image and the non-spontaneous parts of Have I Got News For You. He co-wrote the Head to Heads' for Smith and Jones, worked on Murder Most Horrid and is also credited for additional material in the Nick Park comedy Chicken Run. He has also been employed by Chancellor Gordon Brown and Prime Minister Tony Blair on occasion as a joke writer. As a result O'Farrell was lampooned in Private Eye - edited by O'Farrell's former colleague, Ian Hislop.

O'Farrell is still politically active, having successfully campaigned for a new state secondary school in his part of South London, the 'Lambeth Academy', where he is now chair of governors. He stood as a no-hope Labour candidate in the 2001 General Election in his home town, which was the subject of the BBC documentary Losing My Maidenhead. O'Farrell insists he has no serious political ambitions and will not be standing anywhere again. He now regularly appears on British television on such programmes as Grumpy Old Men, Question Time and Have I Got News For You.
Books and DVDs
Clients often ask about purchasing books for giveaways and delegate packs. Below you'll find a selection of products by John O'Farrell. Click the images to view on Amazon's website. For bulk orders, please speak with your Booking Agent.
You may also be interested in...