John O'Farrell
Guardian columnist, novelist and comedy scriptwriter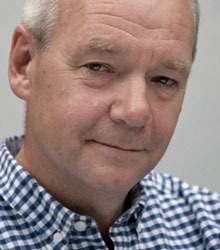 Copyright © Tim Goffe
About
John O'Farrell writes a regular column in The Guardian newspaper, which takes a humorous or satirical look at a major event in British or World politics of the previous week. He is also a novelist with over a dozen titles to his name.

Things Can Only Get Worse?, the long-awaited 2017 sequel to his iconic first book Things Can Only Get Better? (1998), was a number one best-seller and remains one of the most popular political memoirs ever written.

During the intervening decades, John has published five novels: The Man Who Forgot His Wife, May Contain Nuts, This Is Your Life, The Best a Man Can Get and most recently There's Only Two David Beckhams. He has also written the bestselling history books An Utterly Impartial History of Britain and An Utterly Exasperated History of Modern Britain.

One of a small number of British writers to have achieved best-seller status with both fiction and non-fiction, John's books have been translated into over twenty-five languages and been adapted for radio and television.

John attended Courthouse Primary School in Maidenhead, Berkshire and then Desborough Comprehensive where he wrote comedy for the school magazine and stood as the Labour candidate in the school's 1979 mock election. John attended classes at the Redroofs Theatre School and played Christopher Robin in the West End at the age of ten, before appearing in the horror film From Beyond the Grave with Diana Dors and Donald Pleasence. He then went on to study English and drama at Exeter University.

John moved to London in 1985, winning a talent competition at Jongleurs in Battersea, then the UK's top comedy chain which would make household-name celebrities out of many struggling upcoming comics, but gave up stand up-comedy in favour of comedy writing.

John O'Farrell previously wrote for comedy television and radio shows; early roles included five years writing sketches for Spitting Image and the non-spontaneous parts of Have I Got News For You. He co-wrote the Head to Heads sketches for Smith and Jones, worked on Murder Most Horrid and is also credited for additional material in the Nick Park animated comedy Chicken Run.

He has also been employed by former Chancellor Gordon Brown and former Prime Minister Tony Blair on occasion as a joke writer. As a result, John O'Farrell was lampooned in Private Eye - edited by O'Farrell's former colleague, Ian Hislop.

John regularly appears on TV programmes such as Grumpy Old Men, Question Time and Have I Got News For You. He is also available for corporate engagements giving keynote and after dinner speeches.
Books and DVDs
Clients often ask about purchasing books for giveaways and delegate packs. Below you'll find a selection of products by John O'Farrell. Click the images to view on Amazon's website. For bulk orders, please speak with your Booking Agent.
You may also be interested in...