Jimmy Doherty
Pig farmer, agricultural specialist and presenter of 'Jimmy's Farm'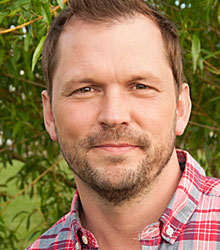 About
A childhood friend of Jamie Oliver, Jimmy Doherty has always been passionate about nature and farming. By the time he was 16, he was the youngest ever Assistant Entomologist at the Mole Hall Wildlife Park in Walden. After gaining a degree in Zoology, Jimmy worked at the Entomology Department at London's Natural History Museum before moving on to Coventry University where gained a PhD in Entomology (the study of insects), set up an insect laboratory and taught Animal Ecology and Animal Philosophy to undergraduate students.

Jimmy then trained as a pig farmer, where in 2002 he met his future wife, television runner Michaela Furney, when Channel 4's filming for "Jamie's Kitchen" took her to the Cumbrian farm where Jimmy was working.

In 2003, Jimmy decided it was time to make his dream of living the good life a reality. Without any experience or knowledge of farming, he took on a leasehold of a 100 acre farm near Ipswich in Suffolk and started The Essex Pig Company utilising free-range meat production practices. Based around various rare breeds, the core breed of pig is the endangered Essex, together with the Berkshire, Gloucester Old Spot, large and middle Whites; Soay and Jacob sheep and Red Poll cattle.

Jimmy's roller coaster journey to change this derelict farm into a rare breed pig farm was followed by two series of a fly-on-the-wall documentary "Jimmy's Farm" (2004-06) which aired on BBC2. This was followed with "Jimmy's Farm Diaries" (2007) and "Crisis on Jimmy's Farm (2007). Jimmy is a strong proponent of traditional farming methods and a more natural and sustainable way of life

Following the success of this series, Jimmy presented a programme for BBC2 called "Jimmy Doherty's Farming Heroes" which aired in 2008, followed by various other series and one-off documentaries for the BBC. In 2009 he presented a six-part documentary "Jimmy's Food Factory" for BBC1, in which he demonstrated the industrial techniques used in the production of processed foods for supermarkets. "A Farmer's Life for Me", was broadcast in spring 2011.

Jimmy has written two books, 'On the Farm', his story of setting up the Suffolk pig farm, and 'A Taste of the Country' which has recipes for traditional British farmhouse dishes. He also has a number of food products called 'Jimmy's Range' which include a range of condiments and a very successful range of sausages currently on sale in Tesco.

Jimmy Doherty is available for personal appearances, corporate and after-dinner speaking engagements.
You may also be interested in...