Richard Reed
Co-Founder of Innocent Drinks, the number one smoothie brand In the UK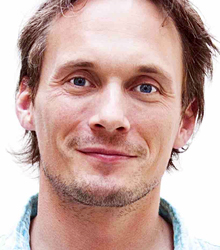 Copyright © Innocent Drinks
About
Richard Reed is a co-founder of Innocent Drinks, the UK's fastest growing food and drinks company and the No.1 smoothie brand in the UK. The business was started in May 1999 by Richard and two friends and now has a turnover of over £150m. Innocent has been called 'The Ultimate 21st Century Company' - quirky, personable, values-based and profitable and determined to remain what Reed calls a 'big small' company, no matter how large it grows.

Innocent drinks is not Richard's first enterprise. In fact, Richard's entrepreneurial career started earlier than most, when he began washing windows for his neighbours at the age of 8.

Following a brief spell of selling Smurf stickers at junior school (until his teachers caught him), Richard retired from the coal-face of self-employment, aged 12. However, a summer job picking up dog biscuits in a pet food factory soon reminded Richard of the joys of working for himself, and led him to set up a summer gardening business called 'Two Men Went to Mow', employing his school friends.

After graduating from Cambridge University and working in advertising for four years, Richard Reed and his two college friends Jon and Adam, decided to set up a lovely fresh fruit juice company. After six months of developing recipes in their kitchen, they boys wanted to test their drinks with a wider audience.

To do so, they bought £500 of fruit, turned it into smoothies and sold them from a stall at a music festival. They put up a sign that said, 'Should we give up our jobs to make these smoothies', and put out a big bin that said 'NO' and one that said 'YES'. Fortunately, at the end of the weekend, the YES bin was full so they went to work the next day and resigned.

Innocent make a unique range of natural, healthy juices and the company now has 75% of its domestic market, sells in 10 different countries across Europe, and its products are sold in every major chain, from Sainsbury's to Boots to Starbucks.

As well as growing Innocent, Richard Reed has been a government advisor on entrepreneurship, through round table discussions with the Prime Minister and his seat on the Small Business Council. Richard and Innocent's awards include E&Y Young Entrepreneur of the Year, National Business Awards' Small / Medium Business of the Year, Orange Small Business of the Year and Orange Innovative Company of the Year.
You may also be interested in...