Steve Backshall
Adventurer and naturalist - TV presenter (Deadly 60, Lost Land of the Jaguar)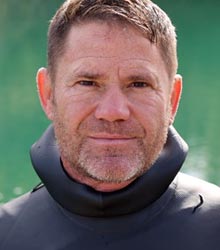 Copyright © Rosie Gloyns
About
Steve Backshall is one of TV's best-known wildlife presenters and was a huge hit on BBC1's Lost Land of the Jaguar, for which he scaled a previously unexplored peak to search for new species in the jungles of Guyana. Steve and his team made a near-death ascent of Mount Upuigma, scaling vertical rock walls as high as the Empire State Building, sleeping suspended in space. In this gripping series the team achieved their mission to find rare and undiscovered species of wildlife to prove that the Guyanan jungle needs to be protected.

Ironically, after arriving safely back in the UK, Steve unfortunately fell 10 metres from a cliff face in the Wye Valley, breaking his back and shattering his foot. Steve's latest presentations feature his extraordinary adventure into the lost Guyanan jungle, the urgent conservation issues his journey has raised and the thought-provoking lessons he's learnt from his accident.

Steve Backshall's fascinating experiences along with his warm presentation style combine to make an engaging and entertaining event for all types of audience from business to educational.

As a TV presenter, naturalist and adventurer, Steve has travelled the globe in search of the wild, weird and wonderful. BBC programmes include some closer to home expeditions for the ever-popular The One Show, Britain's Lost World, Extreme Caving, CBBC Spring Watch, Inside Out and The Nature of Britain. Explorations further afield include the BBC's gruelling and Emmy-nominated epic Expedition Borneo, where Steve made the first ascent of a jungle peak, and first descent into an enormous, unexplored sinkhole; Expedition Alaska, Secret Wilderness: Japan where he met giant salamanders and feisty Macaque monkeys.

As an author Steve Backshall has written Steve Backshall's Venom, The Rough Guide to: Indonesia, Southeast Asia and First-time Asia, as well as the upcoming Adventurer's Guide to Wildlife and Adventurer in Residence. He regularly writes articles for a variety of newspapers and magazines including the National Geographic Traveller Magazine.

Steve Backshall is an inspirational public speaker on a range of wildlife-related issues, conservation topics, exploration and adventure. He is a popular choice to host zoological events, for lunch and after dinner speeches and to launch wildlife and science festivals. Steve is Vice President for both The Wildlife Trusts and Buglife, and a patron for The Wildfowl & Wetlands Trust, London Wildaid and The Exotic Pet Refuge.
Books and DVDs
Clients often ask about purchasing books for giveaways and delegate packs. Below you'll find a selection of products by Steve Backshall. Click the images to view on Amazon's website. For bulk orders, please speak with your Booking Agent.
You may also be interested in...