Jeremy Clarkson
Outspoken and controversial motoring presenter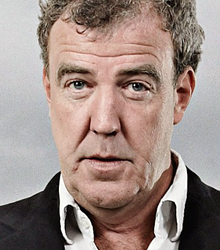 About
Jeremy Clarkson is the biggest name in motoring journalism, literally, at 6'5" tall. As the former main presenter of BBC1's Top Gear and then Amazon Prime's The Grand Tour, he has become famous around the globe for being outspoken, controversial and irreverent.

Born in South Yorkshire, Jeremy dropped out of private school prior to taking his A-Levels and began adult life as a journalist writing for the Rotherham Advertiser. When boredom kicked-in and he realised that provincial journalism wasn't for him, Jeremy moved south to London searching for a meaningful role in life. When he resigned to the fact that he really didn't want to work for — or be answerable to anyone — Jeremy started his own company in 1984, the Motoring Press Agency, providing reviews to be syndicated among the regional press. From this, he became a regular contributor to Performance Car magazine.

Following an approach by a researcher on Top Gear, which had already been on TV since 1977 as a fairly serious and straight-laced car magazine show, Jeremy Clarkson was eventually invited to screen test for the programme, in which he road-tested a Range Rover. He first appeared as a presenter on the show in 1988, and the rest, as the cliche goes, is history.

As well as contributing to most specialist car magazines over the years, Jeremy Clarkson remained as a columnist for Performance Car until 1993. He has also written for Esquire and had a weekly column in the UK daily, The Sun, and two columns a week in the Sunday Times newspapers, as well as contributing to BBC Top Gear Magazine.

In 1993, Jeremy presented Clarkson's Star Cars and in 1995 and 1996 he fronted two six-part series of Jeremy Clarkson's Motorworld. In January 1998 he presented Jeremy Clarkson's Extreme Machines and in 2000, Clarkson's Car Years. As well as his motoring programmes Jeremy has presented a wide variety of programming, in 2001 he wrote and presented Speed, he also had his own chat show, Clarkson.

Despite his popular plain-speaking, no-nonsense and opinionated style, Jeremy left Top Gear in February 2000 and, without him at the helm, the show itself was retired in 2001 for a make-over. It re-emerged in October 2002, as an entirely new format with Jeremy as the main presenter and accompanied by new faces Richard Hammond and James May. Now primarily studio-based, the show focused on the presenters personalities and banter between them. The 'new look' Top Gear became a cult show and a global hit; selling to 214 countries and with an estimated global audience of 350 million.

Following Jeremy Clarkson's controversial departure from Top Gear in March 2015, he reemerged with co-presenters Hammond and May on Amazon Prime's exclusive show The Grand Tour in 2016.
You may also be interested in...