Richard Hammond
TV presenter best known for Top Gear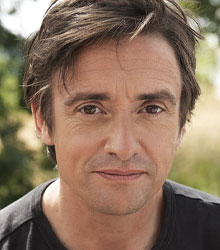 About
Richard Hammond is an award winning television presenter best known for co-presenting Top Gear along with James May and Jeremy Clarkson. Earlier in his career he worked at Radio York and Radio Cumbria, before going on to present a number of daytime lifestyle shows and motoring programmes on Men & Motors.

Along with his work on Top Gear he also currently presents Brainiac: Science Abuse on Sky One, Should I Worry About...? on BBC One and Time Commanders on BBC Two. He also presented Crufts 2005. Most recently he was seen presenting The Gunpowder Plot: Exploding the Legend, where he rebuilt the House of Lords and blew it up as Guy Fawkes would have, had he succeeded.

His weekly column can be read in the motoring section of The Daily Mirror each Friday. Originally from the West Midlands, in the mid 1980s Hammond moved with his family to the Yorkshire market town of Ripon where his father ran a probate business in the market square. A pupil of Ripon Grammar School, from 1987 to 1989 he attended Harrogate College of Art and Technology and was friends with author and academic Jonathan Baldwin. He then went onto gain a degree in photography and television production.

His height or lack of it (5' 4"), is the source of much whimsical banter between him and Jeremy Clarkson (6'4") on Top Gear, with Jeremy often placing pictures of cars high up on the 'Top Gear "cool wall" during arguments with Hammond in order to win. He is referred to, mostly affectionately, as The Hamster by fans of the show, and occasionally by his co-presenters. His nickname was further re-enforced when on two seperate occasions in Season 7, Hammond ate cards almost mimicking hamster-like behavior.

He lives near Cheltenham with his wife Amanda and their two young daughters, Isabella and Willow. He also has three horses, four dogs, two cats, a rabbit and handful of chickens and sheep along with a collection of vehicles that include two Land Rovers, a Suzuki GSXR1000, a Dodge Charger, a Porsche 911, a Morgan V6 Roadster and several kit cars, and he also used to sing and play bass in a band when he was younger.
Books and DVDs
Below you'll find products by Richard Hammond which may be available for purchase. Click the image to view on Amazon's website. Clients often like to purchase books and other merchandise as autographed give-aways at events where Richard Hammond is appearing. For bulk purchases, please speak with the Booking Agent handling your event.
You may also be interested in...