Jenson Button MBE
British Formula One star and one of the sports most recognisable drivers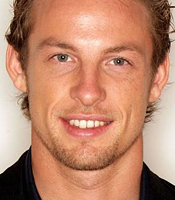 About
He's one of Formula 1's most recognisable drivers, yet even before he graduated to racing cars, Jenson Button was breaking records.

Like many drivers, Jenson started his racing career at the karting track. Unlike most drivers however, he became the youngest ever European Super A Champion at age 17. The following year he moved to cars and won the British Formula Ford Championship, followed by the coveted McLaren Autosport BRDC Young Driver Award. Jenson Button finished third in his first year of the British Formula 3 Championship in 1999, and just a few months later he notched up another memorable first, becoming the youngest British driver ever to start an F1 race.

But Jenson's first F1 years weren't an easy ride, with frequent team switching and ownership changes testing his mental focus and adaptability to the limits. He still managed to pull out a Formula 1 victory for his Honda team in Hungary in 2006 – their first since 1967 and Button's first Grand Prix win. But when Honda pulled out in 2008, Jenson was left without a ride for the 2009 season. Luckily, a last minute management buyout gave him a team - Brawn GP - and the car to continue.

It's a testament to Jenson's talent and focus that he went on to win the 2009 F1 Championship - he won six of the first seven races of the season, dominating the opening few races in a way that had never been seen before. While he didn't win another race that season, the early blitz of victories was enough to see him through to a first drivers' championship title - becoming the ninth Brit to do so. Mission accomplished!

In 2010, Jenson Button joined Vodafone McLaren Mercedes team, after gaining the World Championship the year before. Since then, he has been a major contributor to the success of the F1 team, scoring 214 points in his first season to help the team being Constructors' World Vice-Champion and being Drivers' World Vice-Champion in 2011 with 270 points.
Tags for Jenson Button MBE
You may also be interested in...