Eddie Irvine
1990s Formula One Champion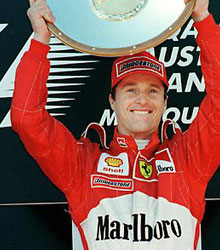 Copyright © Franmarjos
About
Former Formula One driver Eddie Irvine raced for Jordan, Ferrari and Jaguar between 1993 and 2002. During this time he raced in 148 races and scored 191 points with 26 podiums. His most successful year produced his 4 victories for Ferrari in 1999 when he was runner-up to Mika Hakkinen in the championship.

However, Eddie really came into his own in the 1999 season, after his Ferrari team mate, Michael Schumacher, crashed in the British Grand Prix and broke his leg. Previously he had been Schumacher's number two with no wins to his name, but suddenly found himself thrust into the spotlight as Ferrari's only world championship hope, and took victory in four races.

Prior to F1, Eddie raced in Formula Ford from 1983 to 1987, winning the Esso and RAC championships that year. He moved on to British Formula 3 in 1988 scoring 8 podiums with WSR before joining the new Pacific team in Formula 3000 Championship. He moved to the Jordan team in 1990 and took 3rd place in the championship before moving to the Japanese F3000 Championship with the Cerumo team in 1991. This partnership culminated in Eddie clinching 2nd in the championship in 1993.

Eddie Jordan gave Irvine his big break in Formula One at the end of that season when he took part in 2 races. He scored a point on his debut race in Suzuka, Japan when, in the closing phase of the race, he un-lapped himself from race leader Ayrton Senna, much to Senna's annoyance, and cemented his reputation as a no-nonsense, hard charging driver with a work hard, play hard attitude to life.

Eddie took his first F1 podium in Canada in 1995 and his solid second season performance in an independent team earnt him 12th in the championship that year, and also a drive at Ferrari for 1996, when Michael Schumacher also joined.

In 2000, Eddie Irvine left Ferrari to help establish the British Jaguar F1 team, a Ford funded project. Johnny Herbert partnered him this year, with Luciano Burti for part of 2001 and Pedro de la Rosa for the rest of 2001 and 2002. Eddie never had a consistently competitive car with which to race although he scored Jaguar's only two podium finishes, including the Italian Grand Prix in 2002, two races before his retirement, coming third to ex-team-mate Schumacher, and in 1st, his Ferrari replacement and ex-Jordan team-mate, Rubens Barichello.

Away from the exhilaration and fast-paced adrenaline-fuelled Formula One, Eddie Irvine has always had an interest in property development and through this passion, as well as the practicality, he has built a portfolio of properties around the world. Eddie also owns a pub in Dublin, and since his retirement from F1 has established Northern Ireland's premier indoor sports facility, Eddie Irvine Sports.

These days Eddie keeps a relatively low media profile, but can often be found at motorsports events such as the Goodwood Festival of Speed and more recently he's been involved with a group of students' from Queens University Belfast and acts as a patron of it's Queens Formula Racing Team.

A tenacious competitor, his combative streak and blunt approach make him a truly entertaining star from Formula One and is popular at corporate events for personal appearances and motivational speaking.
You may also be interested in...