Johnny Herbert
Former British F1 racing driver, three times Grand Prix winner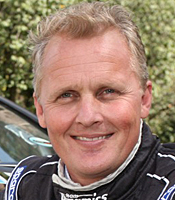 About
Johnny Herbert has had an illustrious racing career spanning over two decades.

Widely recognised as one of motorsports greatest all-rounders Johnny Hebert is among an exclusive club of drivers to have enjoyed a successful career in Formula 1, finishing on the podium for Benetton, Sauber and Stewart. Racing alongside his driving partner Michael Schumacher for Benetton, Herbert won his first ever Grand Prix in front of a home crowd at Silverstone. This vital victory in 1995 won the adoration of the British public and he became a national hero.

His success continued in the sport as he went on to achieve further Grand Prix victories at Monza and the Nurburgring. Competing at the highest level for over a decade, Johnny has raced with the likes of Schumacher, Damon Hill, Ayrton Senna, Nigel Mansell and Alain prost – testing himself against some of motorsports true greats.

Although famous for his time on the Grand Prix circuit, Johnny Herbert has competed in many different forms of motorsport. He is well remembered for his success at the Le Mans 24 hour race, a title that he secured for the first time in 1991 with Mazda alongside Bertrand Gachot and Volker Weidler. He has also been a champion in the British Formula 3, Le Mans Series Championship and Speedcar.

He started racing karts in 1974 before moving on to Formula Ford then Formula 3 where he has won the British championship in 1987. In 1989 he moved into Formula 1 with Tyrell and Benetton as well as competing in sport cars where he won the prestigious Le Mans 24 hour race for Mazda in 1991. Continuing his Formula 1 career he raced for Lotus, Benetton, and Ligier then back to Benetton alongside Michael Schumacher, winning the British and Italian GPS in 1995.

From Benetton Johnny moved to Sauber, then in 1999 he joined Stewart Grand Prix where in the same year he gave the team their first win a the European GP. After a sting at Jaguar racing (the Old Stewart team) he went back to racing sports cars for an Audi customer team, competing again at the Le Mans 24 hour race in 2001, finishing 3rd.

Johnny Herbert joined the Bentley sports car team in 2003 and finished second at the Le Mans 24 hour race as well as 3rd at the Sebring 12 hour race. In 2003 Johnny went back to Audi as a full works driver and achieved many podium finishes. At the end of 2004 he joined the Maserati sports car team. He then finished the season by racing for Champion Racing and achieved a magnificent win for them at Laguna Seca.

Johnny Herbert is available for personal appearances and moderated Q&A interviews for corporate and private functions. He is well known for his extremely bubbly personality and wicked sense of humour.
You may also be interested in...