Jacques Villeneuve
Canadian Formula One champion and second generation Grand Prix legend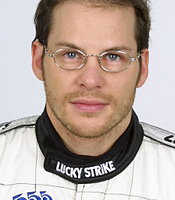 About
Jacques Villeneuve was born in April, 1971, in Quebec, Canada and, despite losing his father Gilles, who was tragically killed in 1982 at the wheel of his Formula One Ferrari, Jacques' was determined to pursue a professional racing career in motor sport.

At the age of 15, Jacques enrolled at the Jim Russell Racing Driver's School in Quebec. This was the very same school that his late father Gilles Villeneuve had attended, and under the direction of his uncle Jacques Villeneuve Sr., the young Canadian began to learn his craft. It was evident from the very beginning that his talent and potential would carry him through to the highest levels of competitive racing.

By 1992, Jacques had spent three years racing in Italian Formula Three, and took the bold step to move to the TOM's team to compete in the Japanese Formula Three Championship. Jacques won three races and finished overall second in the championship - ensuring an impressive debut year in the series.
1993 saw him move to the USA to contest the Formula Atlantic Championship with Team Forsythe-Green, where in his debut year, he achieved third place in the overall standings.

This was enough to see him graduate to the Indy Car World Series, and in 1994 he took to the grid with Team Forsythe-Green. Jacques Villeneuve finished an impressive year sixth in the driver standings, a runner-up at the Indianapolis 500, and notably he took the title of Rookie of the Year.

Formula One beckoned and Jacques ventured across the pond after signing to drive for British team Rothmans Williams Renault. Taking pole position in his first ever Grand Prix, Jacques was only denied winning his debut race after an oil leak cost him the victory. However, he went on to win four races that year, and finished runner-up in the Driver's Championship.

1997 saw Jacques Villeneuve take the coveted Formula One Driver's title – after a dominant year where he achieved 10 pole positions and seven race wins. He left the Williams team in 1999 to join new team British American Racing. For the next five years, he worked tirelessly to yield some results for the new team, battling against a field full of fierce competition and experience. However by the end of the 2003 season, Jacques' highest finish in the championship was seventh (in 2000), and the former F1 World Champion left BAR.

Jacques Villeneuve remained in F1 for the next three years – racing for Renault, Sauber and BMW, before making the decision to step away from Formula One and pursue other projects.

Since 2007, Jacques has competed in NASCAR, Le Mans Series, Speedcar, TRV6, notably finished as runner-up in the 2008 Le Mans 24-Hour Race and ventured into the music industry, so far releasing one album titled "Private Paradise".

In addition to his NASCAR commitments, 2010 saw Jacques compete in the inaugural Gold Coast 600 V8 Supercar event in Australia, and the Andros Trophy in Europe. He returned to the Andros Trophy with Team Skoda for a winter series in the French Alpes, and in addition to his ice racing commitments, he confirmed his participation in the inaugural i1 Super Series in 2012.

Jacques Villeneuve is available for a select number of personal appearances and is a popular after dinner / motivational speaker.
Tags for Jacques Villeneuve
You may also be interested in...