Nigel Mansell CBE
Former British F1 Grand Prix champion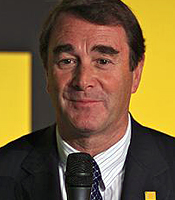 About
Nigel Mansell CBE had a career in Formula One which spanned 15 seasons and he remains the most successful and talented British Formula One driver of all time.

He held the record for the most number of poles set in a single season (until broken in 2011 by Sebastian Vettel), was rated in the top 10 Formula One drivers of all time by Murray Walker, and in 2008, American sports television network ESPN ranked him 24th on their top drivers of all-time.

Born in Worcestershire, Nigel Mansell spent the first decade of his adult life as a Special Constable for the Isle of Man and latterly Devon and Cornwall Constabulary. He had a slow start to his racing career, using his own money to fund his way up the ranks. After considerable success in kart racing, he moved to Formula Ford, and in 1976 he won 6 of the 9 races in which he took part. He entered 42 races the following year and won 33 to become the 1977 British Formula Ford champion.

From Formula Ford he moved into Formula Three between 1978-1980, and from there he was selected to become a test driver for the Norfolk-based Formula One team. Mansell's skill as a test driver impressed Lotus bosses enough to give him a trio of starts in F1 in 1980. In 1984, he finished in the championship top 10 for the first time, and took his first career pole position. It was announced before the Dutch Grand Prix that he would be joining Williams, where he remained until 1988. In preparation for the 1989 season, Nigel became the last Ferrari driver to be personally selected by Enzo Ferrari before his death in August 1988, an honour he describes as "one of the greatest in my entire career".

In 1990 he returned to Williams in a deal worth £4.6 million a season, making Nigel Mansell the highest paid British sportsman at the time. His second stint with Williams was even better than the first, he won five races in 1991, most memorably in the Spanish Grand Prix. 1992 would be Mansell's finest season. He started the year with five straight victories (a record not equalled until Michael Schumacher in 2004).

Nigel Mansell became the most successful British driver of all time when he won the British Grand Prix at Silverstone, as he surpassed Jackie Stewart's record of 27 wins with his 28th. He was crowned Formula One World Champion early in the season at the Hungarian Grand Prix, securing the title in the least number of Grands Prix since the 16-race season format started. Other Formula One records set in 1992 that he still holds are the highest percentage of pole positions in a season (88%), most wins from pole position in a season (9) most races before becoming World Champion (180 races) and most runner-up championship finishes before becoming World Champion (3).

Nigel Mansell won BBC Sports Personality of the Year award in 1986 and 1992, one of only three people to have won the award twice. Away from F1, he has forged a successful business empire including property, retail, golf and country clubs, car dealerships and a karting track.

He is the current President of one of the UK's largest Youth Work Charities, UK Youth, and is also President of the IAM (Institute of Advanced Motorists). Already Officer of the Order of the British Empire (OBE), he was appointed Commander of the Order of the British Empire (CBE) in the 2012 New Year Honours for services to children and young people - as president of UK Youth.
Tags for Nigel Mansell CBE
You may also be interested in...