Jayne Middlemiss
One of television's most popular, experienced and lasting female presenters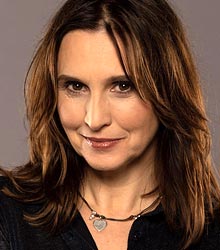 About
Co-host of Live From Studio Five and winner of Celebrity MasterChef 2009, Jayne Middlemiss is one of television's most popular, experienced and lasting female presenters having worked in the business for nearly 20 years.

Whether it be in a live multi-camera studio, interviewing high profile artists, co-presenting on location, broadcasting on the radio or hosting huge events Jayne is confident, entertaining, warm and funny and certainly a reliable pair of hands. She is also stunningly beautiful with a cheeky Geordie accent that the audience love. She is appealing to men and women of all ages and is able to work in all genres of television from light entertainment to features, factual and daytime.

Jayne Middlemiss is an exceptional cook and has had a great relationship with the BBC over the years having worked on shows such as The Ozone, Top of the Pops, Rough Cut (a BBC2 movie review show), EastEnders Revealed, The Smash Hits Awards and various music festival coverage. Jayne also filmed Techno Games for BBC2, and co-hosted LA Pool Party (BBC1/BBC Choice) with Lisa Snowdon and Tess Daly, which won a TRIC Award for Best Satellite and Cable Show.

On BBC1 Jayne fulfilled a career ambition to front her own travel show when she hosted Holiday on a Shoestring and she became the main presenter for the new BBC interactive series of Holiday: You Call the Shots. She also worked with Craig Charles as the new presenter for Robot Wars. Jayne won an RTS Award for The Ozone, Student Choice in 1998 and 1999. For ITV Jayne has hosted three series of Orange Playlist, co-presented CD:UK, ITV2′s Soapstar Superstar and Celebrity Love Island After Sun (following her victory as a 'celebrity' in Celebrity Love Island). She's filmed specials for LK Today and reported from backstage for several high profile events on ITV2 including The BAFTAs and The Comedy Awards.

For Channel 4 she presented the successful dance music show Dogs Balearics alongside Dermot O'Leary and fronted three series of the popular retail therapy show She's Gotta Have It. As well as three series of The Games she also filmed a number of Movie Specials for the channel meeting the likes of Jude Law, Gwyneth Paltrow & Kirsten Dunst.

Jayne Middlemiss' experience in radio is expansive, having hosted her own show on Radio 1 from 1997 until 1999. The show, Top of the Pops Radio, received the highest ratings for its slot in over 20 years. She has also filled in for Jo Whiley and Mary Anne Hobbs for the station and is currently a regular presenter on the BBC's 6 Music. As a result, Jayne is fully capable of operating her own radio desk. She has also regularly broadcast on Radio 2 in the past and covered the massive LIVE8 charity event for Capital Radio.

Yoga, diet, Health and fitness are some of Jayne Middlemiss' true passions and she has been practising Yoga for many years. She travelled to India to make a documentary for Ch4 exploring the origins and disciplines of Yoga and she thoroughly enjoyed filming her own yoga DVD entitled Love Yoga, through Momentum Pictures. She is keen to combine her love her all things relating to 'well being' with her television career.
You may also be interested in...