Jack Nicklaus
US golf legend and possibly the greatest player of all time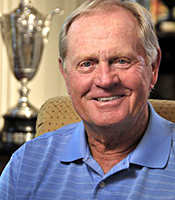 About
Jack Nicklaus, winner of two U.S. Amateurs, winner of 18 major championships, winner of 73 titles and several Senior Tour titles, perhaps the greatest golfer to ever play the game.

Born in Columbus, Ohio, Jan. 21, 1940, little Jack was 10 when he first joined dad Charley on Scioto Country Club. From that beginning, Jack Nicklaus was to embark on a breathtaking ride which would take him around the world many times over, playing golf and later, designing golf courses. Since the 1950s he has been winning championships, and in the new millennium he's still at it.

Ten-year-old Jack carded 51 in the first nine holes he ever played. At age 11 he won the Scioto Club Juvenile Trophy for the second consecutive year, beating 16-year-olds in the process. By the time he was 12, he had won the Ohio State Junior Championship, and by 13 he had shot 69 twice on Scioto - host to the 1950 PGA Championship.

By then, the legend of Nicklaus was practically full-blown, and he had been playing only four years. By 14, he won the state junior amateur, by 15 the Ohio State Amateur. At 17 he won his first national title, the U.S. National Jaycees Championship, and qualified for the U.S. Open the first time. He was still a schoolboy, attending Upper Arlington High School. The school was - you guessed it - the Golden Bears.

He missed the cut that first time in the Open, but the second time, at age 18, he made it and tied for 41st. By now he had entered Ohio State University and played in his first PGA Tour event, the Rubber City Open in Akron. He won the first of two U.S. Amateurs in 1959 at 19, finished second in the U.S. Open at 20 in 1960, and won a second U.S. Amateur in 196l.

Two other milestones occurred that year - one, he married Barbara Bash, a fellow student at Ohio State; and two, he was told he had to leave school after three years. The reason? He had made too many golf trips and the administration felt he could not keep up his class work if he continued.

So Jack dabbled in the insurance business while he started what would become the greatest golf career of all time. He entered the Los Angeles Open, his first start as a pro, and won the magnificent sum of $33.33. It wasn't long before he was winning, though. He broke through the first time at the U.S. Open, beating Arnold Palmer in a playoff in Palmer's backyard at Oakmont.

That was the first of 70 victories on the regular tour, 14 victories overseas which included three British Opens, and two team victories with Arnold Palmer as partner. He won six Masters, five PGA Championships, four U.S. Opens and the British Opens to comprise his 18 professional majors, as well as his two U.S. Amateurs.

Nicklaus' final major was the 1986 Masters, perhaps the greatest victory of all time, certainly the most popular victory of all time, when he was 46 years of age. It came 24 years after his first Open win, and was also his final win on the PGA Tour.

A successful career has followed on the Senior Tour with eight majors. In addition, Jack Nicklaus has a very successful golf course design business with courses all over the world.

He and Barbara live in North Palm Beach, Florida and have five children.
You may also be interested in...