Colin Montgomerie
Ryder Cup legend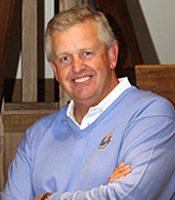 About
With 38 tournament victories around the world, Colin Montgomerie is one of the most recognizable names in the game of golf. A seven-time Ryder Cup veteran, he is viewed by many as the "ambassador" for European golf and has consistently been rated amongst the world's best golfers since moving into the Top 10 of the World Rankings in 1994.

His autobiography, The Real Monty, tells of his exciting 1997, 1999 and 2002 Ryder Cup matches. It is the story of a prodigious talent and complex personality who is still determined to add to his already impressive achievements. In addition to his autobiography, he has also published a successful instructional book, The Thinking Man's Guide to Golf. In this book Montgomerie sets out to give the reader a common-sense approach to the game with the aim of saving five or six shots a round.

Montgomerie is a staunch supporter of a number of charities and has his own charitable trust, The Colin Montgomerie Charitable Foundation. Established in 1998, the Foundation benefits various health-related organizations, including: The British Lung Foundation, The British Heart Foundation, Marie Curie and the NSPCC. Colin also supports the Children's Hospice Association in Scotland.

Today, Colin Montgomerie is not only one of the world's leading golfers, but he is also highly respected in the field of golf course design, borrowing heavily on his lifetime on the links and his vast experience of playing the world's greatest courses.

Colin is available for after dinner and keynote motivational speaking.
Tags for Colin Montgomerie
You may also be interested in...