Il Divo
The world's foremost classical crossover quartet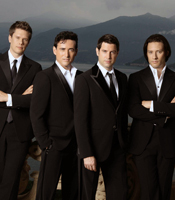 About
Il Divo were brought together by pop impresario Simon Cowell in 2004, following the culmination of an extensive worldwide audition process. The virtuoso blending of operatic technique with romantic and popular song took the world by storm, and Il Divo's schedule has been non stop ever since. Two sold out world tours have seen them performing to over 1.5 million people in thirty countries.

Their amazing career knows no bounds. Il Divo's highlights include appearing at the opening and closing ceremony of the 2006 Fifa World Cup, touring as special guests to Barbra Streisand, a 2009 performance at President Obama's Purple Inauguration Ball and in 2012 a special concert for Her Majesty Queen Elizabeth's Diamond Jubilee at Windsor Castle.

The world's first and still the best classical crossover group – Swiss tenor Urs Buhler, baritone Carlos Marin from Spain, French pop artist Sebastien Izambard and tenor David Miller from the USA – have sold over 26 million albums, enjoyed over 50 number ones, chalked up 160 gold and platinum sales in over 33 countries. Proving the lack of geographical boundaries to their romantic and timeless repertoire, Il Divo have become a global touring phenomenon.

Il Divo sing in Spanish, English, Italian, French and Latin. They were named the Most Multinational UK No.1 Album Group in the 2006 edition of the Guinness Book of World Records. When taking a break from touring the world's stages with their incredible show, they are extremely popular for corporate and private performances.
You may also be interested in...