Howard Schultz
Founder, Chairman and Chief Executive Officer of Starbucks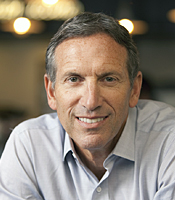 About
As Chairman and CEO of Starbucks, Howard Schultz has helped build the company from a single storefront to a flourishing global enterprise by adhering to a key principle "to build a company with soul". At the heart of Starbucks success lies Howard's philosophy that true leadership leaves no one behind. In his keynote presentations, Howard Schultz discusses the human connection that lies at the core of successful business and defines true leadership.

Howard Schultz wasn't the first person to be carried away by the aroma of a well-roasted coffee bean. But the Starbucks leader was undoubtedly the first to turn that reverie into a billion-dollar retail operation. The global icon that is Starbucks started with a simple idea: to be a third place between work and home where customers could enjoy not only a fresh cup of coffee, but a community experience in a warm and comfortable atmosphere. With over 16,000 stores in 44 countries, and with more than 200,000 employees serving over 50 million customers every week, it's safe to say that Starbucks has revolutionised the coffee industry as well as society at large. The company's vision and guiding principles have been a major part of its success. Under Howard Schultz's leadership, Starbucks instituted one of the most thorough training programs and compensation packages for all Starbucks employees.

Howard Schultz was born in 1952 and raised in Brooklyn, NY. A football scholarship to Northern Michigan University was his ticket out, and after graduating he worked a variety of jobs until becoming manager of the US operations for Hammarplast. It took Howard a year to convince the Starbucks owners to hire him. When they finally made him director of marketing and operations in 1982, he had an epiphany. In Italy he took note of the coffee bars that existed on practically every block. He saw that they not only served excellent espresso, they also served as meeting places or public squares; they were a big part of Italy's societal glue, and there were 200,000 of them.

But back in Seattle, Starbucks owners resisted Schultz's plans to serve coffee in the stores, saying they didn't want to get into the restaurant business. Frustrated, he quit and started his own coffee-bar business, called Il Giornale, after the Milanese newspaper. Two years later, the original Starbucks management decided to focus on Peet's Coffee & Tea and sold its Starbucks retail unit to Schultz for $3.8 million. He renamed Il Giornale with the Starbucks name and aggressively expanded its reach across the United States. Howard Schultz's keen insight in real estate and his hard-line focus on growth drove him to expand the company rapidly.

Howard Schultz has said that his model for expanding Starbucks is McDonald's, with a few key differences. One is that Starbucks owns most of its stores, while McDonald's franchises. Schultz doesn't believe it's possible to build a strong brand around franchises - although McDonald's is an obvious exception. Another difference is that Starbucks managed to blossom without national advertising. Finally, Starbucks sells premium products to a fairly upscale, urban clientele.

Asked the secret of his success, Howard Schultz recounts four principles: "Don't be threatened by people smarter than you; Compromise anything but your core values; Seek to renew yourself even when you are hitting home runs; And everything matters".
You may also be interested in...