Heston Blumenthal OBE
Three Michelin starred chef and owner of The Fat Duck restaurant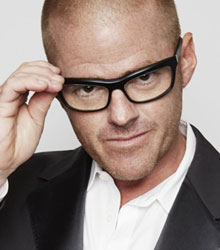 About
Heston Blumenthal is an English chef and owner of The Fat Duck, a three-Michelin-starred restaurant in Bray, Berkshire voted Best Restaurant in the UK by The Good Food Guide 2007 and 2009 and voted best restaurant in the world by 'Restaurant' magazine in 2005.

Heston has had four books published; 'Family Food: A new approach to cooking' in 2004, 'Heston Blumenthal: In Search of Perfection' in 2006, 'Heston Bluementhal: Further Adventures In Search of Perfection' in 2007 and 'The Big Fat Duck Cook Book' in 2008 published by Bloomsbury.

He's produced a number of TV shows which include 'Kitchen Chemistry'. 'In Search of Perfection', 'Big Chef Takes on Little Chef' and 'Heston's Feasts'. From February 2011, Channel 4 began airing Heston's new show, titled 'Heston's Mission Impossible', in which Heston targets lack-luster food served in various industries and aims to update the food to things people enjoy to eat.
Video
Click below to watch video footage of Heston Blumenthal OBE. To enquire further about Heston Blumenthal OBE for corporate and private bookings, please click here or call us on +44 (0)1372 361 004.
Books and DVDs
Below you'll find products by Heston Blumenthal OBE which may be available for purchase. Click the image to view on Amazon's website. Clients often like to purchase books and other merchandise as autographed give-aways at events where Heston Blumenthal OBE is appearing. For bulk purchases, please speak with the Booking Agent handling your event.
Tags for Heston Blumenthal OBE
You may also be interested in...