Gordon Ramsay
Michelin star chef and star of Ramsay's Kitchen Nightmares / Hell's Kitchen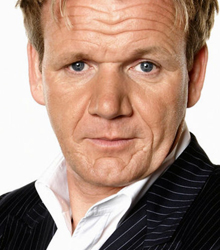 Copyright © Channel 4, Pete Dadds
About
Scottish by birth, Gordon Ramsay was brought up in England after his parents moved south to Stratford-upon-Avon. His first career break came whilst playing football for Oxford United where he was spotted by a Glasgow Rangers scout in an FA youth club match. After completing trials he was signed by the Scottish champions at the age of 15. Three years later he had given up professional football and gone back to college to complete an HND course in hotel management.

Gordon Ramsay moved to London where he joined Marco Pierre White in the early days of Harvey's in Wandsworth. After a couple of years Gordon moved to Le Gavroche to work alongside Albert Roux. This was followed by three years of working in France in the kitchens of Guy Savoy and Joël Robuchon. Here he was able to enhance his expertise in classic French cooking.

In 1993, Gordon became chef of the newly opened Aubergine where he won many accolades including two Michelin stars within three years of opening.

Gordon's first book, Passion for Flavour, published by Conran Octopus, was published in 1996. His second book, Passion for Seafood, was published in 1999. A Chef for all Seasons was published by Quadrille in 2000 followed by Just Desserts in 2001 and Secrets in 2003. In 1998 at the age of 31, Gordon set up his first wholly owned restaurant, Gordon Ramsay, on the former site of La Tante Claire in Chelsea. A year later he opened Pétrus with his protégé Marcus Wareing as Chef Patron, in St. James's. Within seven months it had won a Michelin star.

In 2000 Gordon won The Chef of the Year Award at the Cateys. His restaurant Gordon Ramsay was voted the Top UK Restaurant in the 2001 London Zagat Survey and was also named as the best Fine Dining Restaurant in the 2001 Harden's Guide. These ratings continued in 2002, 2003, 2004 and 2005.

In January 2001 Restaurant Gordon Ramsay gained its third Michelin star in the Michelin Red Guide Great Britain & Ireland. And in October 2001 Gordon opened Gordon Ramsay at Claridge's which gained a Michelin star in 2003.

Gordon Ramsay has extensive consultancy agreements with a number of blue chip companies including Singapore Airlines, Booker Cash and Carry Limited and Aramark Limited.

In 2003 Gordon Ramsay Holdings re-launched The Savoy Grill with Marcus Wareing. The restaurant achieved its first Michelin star in 2004. This was followed with the opening of Boxwood Café at The Berkeley. At the same time the Michelin starred Pétrus that from St. James's to join Boxwood Café at The Berkeley.

2004 saw Gordon Ramsay star in the Channel 4 series Ramsay's Kitchen Nightmares, a series of four one-hour programmes, later to be awarded a BAFTA. The programme was launched simultaneously with Gordon's recipe book Gordon Ramsay Kitchen Heaven published by the Penguin Group. Shortly after this, Gordon was given two weeks to direct a group of celebrities towards Michelin standard cooking in the ITV series Hell's Kitchen.
Books and DVDs
Clients often ask about purchasing books for giveaways and delegate packs. Below you'll find a selection of products by Gordon Ramsay. Click the images to view on Amazon's website. For bulk orders, please speak with your Booking Agent.
You may also be interested in...