Gino D'Acampo
Italian celebrity chef and television personality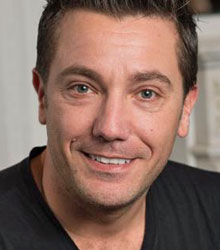 About
Gino D'Acampo has turned things around. From the boy who cleaned the pizza oven in Naples to the food manager at a Pavarotti reception, the direction of his young life's journey so far could have been very different...

Born into a poor Neapolitan family, Gino inherited his grandfather's (a head chef) love of cooking and entered the Luigi de Medici Catering College at the age of fifteen. He continued to develop his skills through the kitchens of restaurants in Europe, including Perignon in Nice and a spell as Head Chef at Sylvester Stallone's Mambo King in Marbella (aged 19) before coming to England the following year.

'At this time I was a young Italian guy trying to run a bit too fast', says Gino, 'and I got involved with the wrong people. I wanted to send money home - perhaps I was keen for them to see how well I was doing - and made the mistake of handling a few things that didn't belong to me'.

He paid for this mistake with several months in jail. He had time to think. And he decided that he wasn't coming back to this place - to the disappointment of the staff, who had soon become used to his great cooking. The shock was his turning point and he resolved to work hard to achieve success the right way, taking on Head Chef assignments in London restaurants - including Pane Vino and The Orchard in Belsize Park - and joining a major Italian food company as Development Chef. He has also developed recipes for Tesco (their Finest range), was Head Chef at the Italian Ambassador's birthday reception and took care of the food at the aforementioned Pavarotti concert reception.

Gino now owns his own import and distribution company, Bonta Italia, and continues as development consultant chef for ready-meals manufacturing companies. His particular skill in the blending of olive oil led to his first TV engagement with UK Food as a guest on Good Food Live. He was an immediate success and is now a regular studio guest. He was also invited to shoot a VT series for Good Food Live called Essential Ingredients , which examined traditional Italian foods and recipes. BBC TV soon took notice of his natural ability and regular appearances on the BBC2 flagship food programme Saturday Kitchen quickly followed - and 2004 has seen Gino fulfil his ambition of joining BBC2's prestigious Ready Steady Cook team, starting with three straight wins. He has also become a favourite regular guest on The Terry and Gaby Show for Channel 5.

Gino D'Acampo is an authoritative, fluent and compelling performer. His food and recipes are accessible and fresh, stressing simplicity with quality, and he regularly presents live demonstrations.
You may also be interested in...