Simon Rimmer
Celebrity chef, television presenter and restauranteur (Sunday Brunch)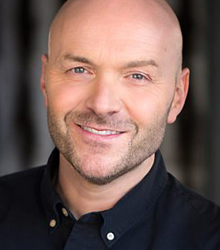 Copyright © John Carey
About
Simon Rimmer is best known as the co-presenter of Channel 4's Sunday Brunch alongside Tim Lovejoy, the morning show which wakes the nation up on a Sunday with a mix of chat, current affairs, guests and food.

Simon has a wealth of TV experience, and has appeared across many channels including BBC, ITV, C4, C5 and UKTV. Simon's popularity really took off when he landed a role on the BBC2 Sunday show - Something for the Weekend, on which Simon cooked and interviewed guests.

He has presented and cooked across many shows and channels including BBC, ITV, Channel 4, Channel 5 and UKTV; and his numerous credits include Tricks of the Restaurant Trade, Breaking into Tesco's, Eat the Week, Great British Menu and Win It, Cook It. Aside from his television work, Simon has also written and published five successful books and he regularly contributes to food magazines.

He is a chef/owner of nine restaurants in the north west of England and one in Dubai. As a restaurateur this is where Simon's real passion for food began as a career, and he continues to cook in the restaurants every week, which he enjoys immensely; but also keeps him in touch with the culinary trends of the moment.

Simon frequently works with brands on PR campaigns, and corporate events. He is also a favourite at food festivals and demonstrations across the country. He has in the past appeared at BBC Good Food Show and Grand Designs, as well as many local and regional events across the UK.

Away from television, Simon Rimmer is a big football fan and he is involved with Manchester City Football Academy teaching young up and coming players, about eating, nutrition and cooking at specially designed cookery courses.
You may also be interested in...