Greg Nugent
Former Director of Brand, Marketing and Culture - London 2012 Olympic Games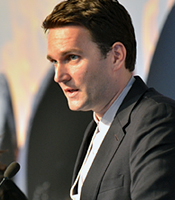 About
Greg Nugent is the former Director of Brand, Marketing & Culture for LOCOG, organisers of the London 2012 Olympic and Paralympic Games. He is the man who coined the phrase 'Inspiring A Generation' which became the slogan of hope and inspiration for an entire nation.

Prior to the Olympic Games, Greg Nugent was Marketing Director for Eurostar (2003-2008) where, amongst numerous marketing successes, he led the campaign behind Eurostar's historic move from Waterloo to St Pancras International in 2007 - the largest European infrastructure project at the time - and the 2006 tie-up with blockbuster movie 'The Da Vinci Code', which went on to win several global awards for effectiveness and 'Tread Lightly', Eurostar's commitment to cut carbon dioxide emissions, which was championed by Greg.

This was followed by a brief appointment as founding CEO of 'Start' (January - May 2009), The Prince of Wales' charitable initiative based at Clarence House and dedicated to helping people live a more sustainable lifestyle. Prior to that he was Group Marketing Manager GlaxoSmithKline (2001-2003) and Brand Manager to Marketing Manager, Weetabix (1998-2001). Greg joined LOGOG as interim Marketing Director in May 2009, on a six-month contract, but by the end of November 2009 he had been promoted to the newly created role of Brand & Marketing Director.

Managing the branding of London 2012 was a once-in-a- lifetime opportunity, which Greg described as 'unprecedented in its scale and complexity'. Greg was accountable for a number of key deliverables that contributed to the success of the London Olympics and Paralympics. His principle accountabilities at LOCOG were public opinion, research and polling; grassroots and community campaigning; Advertising; CRM and Data; the Cultural Olympiad; the design of the Spectator Experience and the 'Look' and brand design of the London Games. He worked extensively with those responsible for delivering and operating the Games and also developed the concept of Games Makers.

As a testament to the Games' success, nearly 90% of those surveyed afterwards said it was "the best thing that's ever happened in the UK". The man responsible for masterminding the acclaimed marketing around the 2012 Olympics - arguably the most successful ever - says the experience has changed the way he approaches the discipline and that brands should think in terms of campaigning rather than advertising.

Greg is now Deputy Chair of the Join in Trust, an organisation that has evolved the idea of localism and volunteers based on the Games Makers. To reflect his contribution to the Olympic movement the International Olympic Committee (IOC) awarded Greg the 'Olympic Order of Merit' in August 2012. Greg has also been appointed as a London 2012 Legacy Ambassador for the Foreign & Commonwealth Office.

Greg Nugent is a committed creative and strategist who believes that most brands and businesses - from SMEs to large global conglomerates - can be inspired by the achievements of London 2012.
Speech Topics
Drawing lessons from his London 2012 experience, that can apply to any brand or business of any size and type, Greg Nugent regularly speaks at conferences and events around the world on varied themes including;

• Branding & Reputation
• The Key Learnings from The London Olympics
• Business Strategy
• The Role of Social Media During The Games
• The Importance of Upskilling For Today's Marketers
• Customer Service
• The Skills Marketers Need To Succeed