Graham Mitchell
The Wine Explorer - engaging, civilised speaker brimming with wit and humour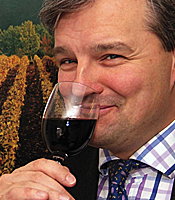 About
Graham Mitchell is the fourth generation in his family to toil in wine. His Great Grandfather, Sir Alfred Bower, established Bower and Company, wine merchants in the City of London in 1879, so you could say that wine is in his blood. A Director of El Vino Company for 6 years, Graham subsequently followed Sir Alfred's example and set up his own wine business.

His passion for wine and wit have led to a regular wine slot on BBC Radio since 2002 and a reputation as one of the better after dinner speakers in the UK. Graham will take you and your guests on an amusing light-hearted journey through the vineyards of the world, discovering and revealing the mysteries of wine.

Whether you are organising a dinner, a corporate event, a team building exercise or a wine tasting, Graham Mitchell can turn your event into an experience. There are lots of people who speak about wine but there is no-one with the same blend of wit and authority on the subject as Graham Mitchell.

Graham Mitchell balances information and entertainment which makes it an experience with a difference, a wine experience.

Tailormade Corporate Wine Events
A corporate wine event designed and run by Graham Mitchell is tailormade for small groups of 25 to large groups of over 200; involving grape comparisons and country competitions; featuring mystery wines and call my bluff quizzes and always informative and entertaining. These events are proven successes for client entertainment and team building alike, whether run inside or outside the office.

Wine selection without the headaches
Graham explores vineyards around the world and off the beaten track to discover well-made wines with individuality, concentration and balance. Graham will perfectly match your selection of food with appropriate fine wine. Alternatively he can present wines exclusively for you with a specific tailored theme for the evening. Either way you can be sure the wines are well-sourced.

Graham Mitchell, "In a glass of his own".
Testimonials
Graham Mitchell is an engaging, civilised after dinner speaker brimming with wit and good humour. He is both amusing and stimulating about a subject which everybody enjoys. The world of wine has a fund of good stories and Graham Mitchell seems to know some of the best!
Graham Mitchell is a natural. His speech was spectacular. He is an accomplished and entertaining speaker, both hilarious and informative. I knew the evening had been a huge success by the appreciative reaction of the audience.
Graham brings an immense amount of knowledge and humour to wine tasting. I have used his services several times for occasions where bonding and relaxation are key elements (team meetings, executive meetings and social events.) I can thoroughly recommend his skills to enhance your own pleasure and appreciation of wine.
The selection of wines and Graham's knowledge and love of them was obvious, but also his presentation and informal fun approach to enjoying wine made the evening a great success.
Graham Mitchell is to wine what Michael Palin is to travel - a sort of Indiana Jones with a corkscrew! Graham has an easy going style where wit, serious comment on wine and charming anecdotes are easily mingled. However, for all the charm the audience is left in no doubt as to his passion and expertise when it comes to the wines. With Graham you learn about wine in a matter-of-fact, direct and accessible way. He was excellent.
Graham Mitchell is one of the best speakers that our society has enjoyed for years. He is an engaging guide who shares his knowledge of the mysteries of wine with such a light touch that his audience little realise how much they are learning. Graham's stories of his adventures in the vineyards are both amusing and entertaining.
We invited Graham to speak and to run a blind tasting competition at our annual customer summer bash, and he was by general acclaim the star of the show. Even for those whose alcoholic intake was normally lager, Graham's talk was a great combination of fascinating facts about wine and a wicked sense of political humour that had us all in stitches. His fluent and engaging style bettered Boris by a mile! He also made the wine tasting competition great fun, for participants and spectators alike. He was well worth the money! I would recommend Graham Mitchell unreservedly to any organisation seeking a humorous, interesting and informative speaker for any event with a political or wine-related theme.
The Wine Explorer's selection of wines is eclectic and interesting and has introduced us to wines we probably wouldn't otherwise have sampled. We also appreciate the discount and value for money as a member of the Cellar Club.
You may also be interested in...