Matt Skinner
Wine writer, consultant and head sommelier at Jamie Oliver's Fifteen restaurant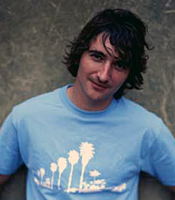 About
Matt Skinner is a wine writer, consultant, and educator well-known to international audiences for his refreshing take on wine, and knack for making it simple.

A strong believer that wine is for everyone, and that enjoying it is your right rather than your privilege, Matt, in recent times, has twice been short-listed for the IWSC International Communicator of the Year Award, is author of the awarded and international bestseller Thirsty Work (published in 17 countries and 10 languages) and continues to put together his annual guide, The Juice – 100 wines you should be drinking.

Day to day Matt consults to a small, yet perfectly formed group of clients around the world, makes regular contributions to Waitrose Food Illustrated (UK), GQ Australia and jamieoliver.com, and likes nothing more than uncrowded surf, and finding out he's been upgraded at check in.

While much of his time is spent on the road, and here in the UK, Matt calls Melbourne, Australia home.
You may also be interested in...