Salvatore Calabrese
Bar Manager at The Lanesborough and one of the World's greatest barmen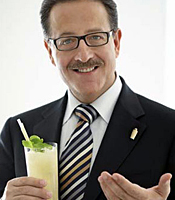 About
Salvatore, formerly of London private members club FIFTY, is reputed to be one of the UK's most celebrated bartenders, having first established himself at the Lanesborough Hotel. Serious accolades are given to Salvatore for his world class expertise on vintage Cognacs and his work is constantly profiled in major magazines such as Tatler and Decanter.

Salvatore can now be found at Salvatore at Playboy, inside the Playboy Club Mayfair, at Mixology 101 in LA, and since 2014 at Bound at The Cromwell Hotel and Casino on the Las Vegas Strip.

The ultimate specialist in drinks, Salvatore's list of published books includes Classic After Dinner Drinks, The Complete Home Bartenders' Guide, Virgin Cocktails, Sexy Cocktails and Cocktails by Flavour. A new edition of Classic Cocktails was published by Sterling on 21st April 2015.

Over the past decade Salvatore has established himself as a world expert on vintage Cognacs, and has spent years finding and collecting and serving some of the world's oldest and rarest vintages. Their dates mark some of history's most important events, and his most memorable experience was opening a bottle of 1789 Cognac, the year of the French Revolution, and selling it at £1,000 a glass; coining the phrase, 'Liquid History'.

In October 2012 he mixed 4 of his vintage spirits, to create 'Salvatore's Legacy', the Guinness World Records 'World's Most Expensive Cocktail' at £5,500 a glass! In April 2015 he set a world record for the oldest cocktail ever created; a martini containing gin and bitters from 1900, with a combined age of 300 years.

Salvatore organises and judges at international cocktail competitions and has a reputation for stunning non- alcoholic cocktails, having won national and international competitions in this field. He has worked with the Health Education Authority to develop the non-alcoholic and nutritious 'Working Cocktail'.

His TV appearances include This Morning (ITV), GMTV, UK Living, Carlton Food Network, Something for the Weekend (BBC2), many programmes in the USA, and on radio; Classic FM, BBC Radio2 and 5 Live.

Salvatore has been featured in the Daily Mail, Decanter, and Tatler, and written for publications including The Independent, The Guardian and The Times, GQ magazine, and Cheers!, a special drinks publication for Christmas 2014.
In June 2012 Salvatore was awarded the Italian honour 'Salernitani Illustri nel Mondo'. Other awards include 'Best Bar 2012' at The London Lifestyle Awards, 'International Cognac Personality of the Year 2009' -Bureau National Interprofessionnel du Cognac (BNIC), and in 2006 the Italian Bartenders Association (AIBES) 'Outstanding Achievement Award' for his contribution to the bar industry.
Tags for Salvatore Calabrese
You may also be interested in...