Olly Smith
Award-winning wine expert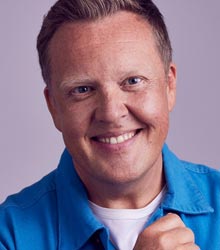 About
Olly Smith appears regularly as wine expert on BBC1′s Saturday Kitchen and his own TV series is broadcast across the Food Network and Travel Channel. Jeni & Olly's West Coast Wine Adventures is the ultimate taste of West Coast America where wine guru Olly and foodie Jeni Barnett take to the road to discover the most thrilling wine, food and adventures from Portland to San Francisco.

Olly — a uniquely enthusiastic television presenter, award winning wine expert, foodie, columnist and author — has a string of TV credits including presenter of The Secret Supper Club and Iron Chef UK for Channel 4 as well as regular guest appearances as drinks expert on ITV's This Morning, including his four part travel series Last Taste of Summer, and panellist on The Wright Stuff for Channel 5. He also presents Uncorking the South, a 13-part documentary series about Chilean wine for Canal 13 broadcast throughout South America; Olly is officially big in Chile. He also appears on the radio across the country and with his own shows on BBC Radio 4. Olly also presents films for Waitrose TV – Olly Smith's American Whiskey Trail and Christmas Drinks with Philip Schofield.

Olly Smith is Wine Editor of The Mail on Sunday's Event Magazine with his weekly wine column reaching 5.3 million readers each week. He also writes for numerous other publications. His book Behind Enemy Wines was released in September 2013. Brimming with even more winning wine facts from Olly's weekly wine column this collection of short chapters offers top tips and expertise on how to select the perfect bottle to thrill, titillate and delight your palate – whatever the occasion, budget or mood. His previous book Wine: Both Barrels was published in November 2012 and is an entertaining and informative guide to wine, giving readers everything they need to know, from what to drink and how to spot a bargain to food matching and tips galore.

His first book 'Eat & Drink: Good Food That's Great to Drink With' was published by Headline in May 2010. Illustrated by his own fair hand, it is a treasure trove of recipes, wine tips and tales of adventure from his travels across the high seas of flavour.

Olly is Celebrity Drinks Ambassador for Ideal Home Show Christmas and hosts a multitude of live events around the UK including Tapas Fantasticas and Drinks Retailing Awards and host of the Parade Ring Restaurant Royal Ascot and previously BBC Good Food Show, Masterchef Live, Love Cooking, Taste of London and the F-Word Live for Channel 4. He is one third of Three Wine Men bringing wine tasting to the masses.

Before romping into the world of fine food and wine, Olly Smith was a scriptwriter for TV and film, including shows such as Pingu and Charlie & Lola, and even spent a joyful day gag-writing for Wallace & Gromit's Curse of the Were-Rabbit. However, Olly's favourite writing assignment was The Fly Who Loved Me which united him with his hero and chum Sir Roger Moore.
You may also be interested in...