Frank Pope
Marine archaeologist, zoologist and TV presenter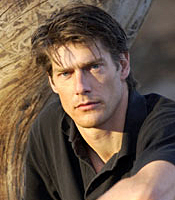 About
Frank Pope is the new face of TV marine archaeology making his screen debut with BBC2's Thames Shipwrecks: A Race Against Time. Having already made his name as the world's first Ocean Correspondent and as a successful author with the best-selling Dragon Sea, Frank is now developing his presenting work on-screen, as well as off-screen, for talks and presentations about his intriguing experiences in the world of shipwreck investigation.

His work for Oxford Maritime Archaeological Research and Excavation has taken Frank underwater, all over the world, to investigate wrecks in countries such as Italy, Greece, Vietnam and Mozambique, as well as Uruguay to uncover Nelson's flagship Agamemnon. As Ocean Correspondent Frank writes for the Times and regularly contributes articles to a range of magazines including Men's Vogue. Frank has appeared at the Guardian Hay Festival, and on radio for the National Geographic, West Coast Live (USA) and National Public Radio (USA).
Speech Topics
Frank Pope's enormous wealth of experience and his amazing adventures make his talks and presentations an engaging and fascinating event for all types of organisation.

He is eager to promote the idea of the ocean to all audiences from business to children (he wants to encourage kids to be aquanauts, not astronauts) and has already made a number of well-received presentations to important organisations such as the Smithsonian Institution in Washington.

Frank Pope's charismatic personality and passion for his subject ensure a successful occasion for any sized group from the after dinner, academic, to the large corporate.
You may also be interested in...