Eddie Mair
Award-winning LBC broadcaster and journalist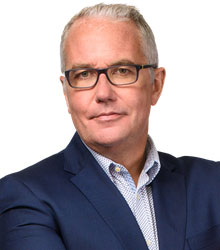 About
Scottish broadcaster, Eddie Mair, is an award-winning broadcaster and presenter on LBC talk radio, weekdays, between 4pm-7pm. Prior to that he presented BBC Radio 4's nightly news and current affairs programme PM since 1998, garnering a slew of broadcasting awards.

Born in Dundee and educated at two state schools, Eddie joined the local radio station at 17 years old where he learned his craft before moving to Glasgow and joining the BBC in 1987 as a sub-editor for BBC Radio Scotland.

He then moved into radio and television, presenting the station's flagship television and radio news programmes, Reporting Scotland and Good Morning Scotland. He hosted the new morning programme Eddie Mair Live, which won a Gold Sony Award for best Breakfast Show.

Eddie was launch presenter of Broadcasting House (BBC Radio 4) in 1998, where he joined PM as a regular co-host, and became the sole presenter in 2003. He has won Sony Awards for Speech Broadcaster of the Year and News Journalist of the Year. The programme won a Sony Gold award in the Interactive category in 2007.

In 2012, Eddie won Gold at the Sony Radio Academy Awards for his interview with Julia Nicholson, who lost her daughter Jenny in the London bombings of 7 July 2005. PM also won a Gold award the same year for its coverage of Hosni Mubarak's resignation as president of Egypt.

Eddie Mair has also presented Newsnight on BBC Two, re-launched the Seven O'Clock News on BBC Three and produced the first series of Unreliable Evidence with Clive Anderson, as presenter, on Radio 4. Eddie and Robert Preston also presented a series of 6 interview programmes for Radio 4 The Robert Peston Interview Show (with Eddie Mair) with guests ranging from Dame Esher Rantzen to Julian Barnes to Denis Norden.
You may also be interested in...