Des Lynam OBE
BAFTA winning ITV sports broadcaster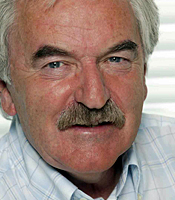 Copyright © BBC Sport
About
Des Lynam started his broadcasting career as a sports reporter for Radio Brighton in 1968 and within a year he joined BBC Radio 2 presenting Sports Report.

In 1978 he moved to BBC television where he was their main sports anchorman for over twenty years. He has presented all major sporting events including the Olympic Games, Wimbledon, Match Of The Day and the Grand National. He also had his own Friday drivetime show on BBC Radio 2.

In August 1999 Des moved to ITV to anchor their live football coverage of the Champions' League, the FA Cup and the European Championships in 2000. He was awarded the BAFTA Richard Dimbleby Award in 1994, voted Top Television Presenter in 1996 and has been Sports Presenter of the Year five times.

When the Radio Times celebrated its 75th anniversary in 1998, its readers voted Des the 'Host With The Most'.

Des is an excellent after dinner speaker and awards host.
You may also be interested in...