David Walsh
Chief sports writer at The Sunday Times who exposed Lance Armstrong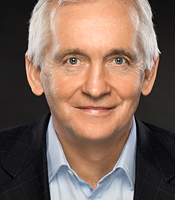 About
David Walsh is chief sports writer for The Sunday Times, a four-time Irish Sportswriter of the Year and a three-time UK Sportswriter of the Year. He is most notable for being the journalist, along with colleague Paul Kimmage, that exposed Lance Armstrong and the rife use of drugs within cycling.

David Walsh began his journalistic career as a reporter on the Leitrim Observer, where he worked his way up to become editor at just 25 years old. He left the paper to join the Dublin-based daily the Irish Press, and in 1984 he took a year out to cover cycling sport in Paris. Returning to his Dublin-based paper after that year he ultimately left in 1987 to work for the Sunday Tribune before moving onto the rival the Sunday Independent four years later. He joined The Sunday Times in Ireland in 1996 and began working on the story about doping in professional cycling shortly after moving to England in 1998.

Nicknamed the 'Little Troll' by the disgraced cyclist, David, along with fellow Irishman and Sunday Times journalist Paul Kimmage, led the way in exposing Lance Armstrong and the systematic doping rife within cycling. He revealed in the Sunday Times in 2001 after a two-year investigation that Armstrong was working with the controversial Italian doctor Michele Ferrari. Under the headline "Champ of Cheat?" The Sunday Times asked in 2001 why a clean rider would work with a dirty doctor. His books on Lance Armstrong include LA Confidentiel (2003 with Pierre Ballester), in which Armstrong's soigneur Emma O'Reilly revealed that she has taken clandestine trips to pick up and drop off what she concluded were doping products, From Lance to Landis: Inside the American Doping Controversy at the Tour de France, and Seven Deadly Sins: My Pursuit of Lance Armstrong (2012).

In his highly entertaining and insightful after dinner speech, David Walsh discusses his relentless pursuit for the truth surrounding Lance Armstrong and the importance for journalists to continue asking questions and not run away from the story.
You may also be interested in...